Isn't that a picture perfect coastal scene?  The sea is Mediterranean Sea and the city in its backdrop is Nice, a perennial vacation spot for the French, especially from north and central France. Let us know the best things to do in Nice, France.
Please be aware that it is a part of the highly-visited French Riviera.
If you look at the map of France in world atlas, you will locate it in France's south-eastern tip.
The coastline facing the Mediterranean Sea is known as Alpes Maritime.
The alternative name of French Riviera region is Côte d'Azur. It means 'the Azure Coast'.
It is interesting to note that Monaco, an enclave (an independent country within another country) is also included in the French Riviera.
I have to dedicate an exclusive article to every city on the French Riviera. Today, I have chosen to cover Nice.
Nice start-eh?
Overview of Nice:
It is a scenic city with the Mediterranean Sea on one side and the breathtaking French Alps on the other side.
Incidentally, Monaco, an independent country lies just 15 km north of it.
Among the communes of French Riviera, Marseille is the largest, followed by it.
Best Things to Do in Nice
Let us peruse the list of attractions in Nice.
Promenade des Anglais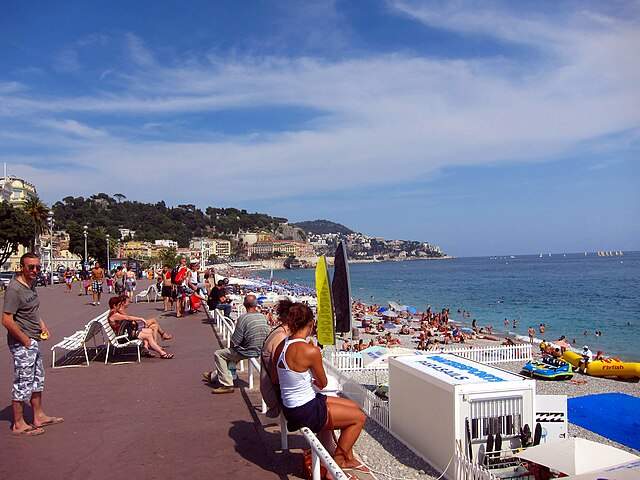 Promenade that faces a water body, mostly sea or ocean, is a place of public gathering. Usually, it is the number one tourist landmark in any city on the coast.
This promenade in Nice is 7 km long! It is where the locals as well as the tourists gather to spend their evening.
Apart from the pedestrians, the space of the long promenade is used by cyclists, and roller-skaters.
Cathedral
In the Western Europe, all the cities, towns and even small villages have churches and cathedrals of various proportions.
This is Nice cathedral.
It is a French national monument and is dedicated to the Assumption of the Virgin Mary.
It is a historic building that is 1200 years old!
Gare de Sud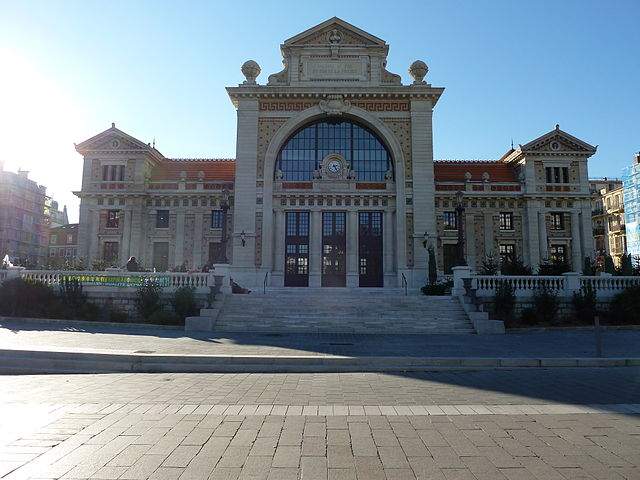 Very impressive building!
This building houses a food court. Do you know this building was once a railway station with the same name Gare de Sud?
Before you become a slave of French cuisine, do some shopping in the same building.
After silencing the rumblings of your stomach, watch a movie in the theater that is also part of Gare de Sud.
Ride in a tram
Yes, tramways are still in vogue in some part of the world. The city of Calcutta in India is one example.
Tramway in Nice.
It moves faster than the Calcutta trams.
You can commute from the airport up to the promenade.
Nice Castle
Sadly, the beautiful castle, a defensive building on a hill doesn't exist anymore. The French people have destroyed it some 500 years ago.
The demolished site of the castle is now developed into a public garden.
It gives a tremendous view of the Bay of Nice.
The Castle Hill is one of the major attractions in Nice.
Palais de la Meditrranee
Again, a palace is transformed into a 98-floor hotel with casinos. It is a palatial hotel and true to the word.
The hotel is equipped with 200 rooms and suites! It is conveniently located near the promenade de Anglais.
Notre-Dame
So, it also has a church named after Notre-Dame. It is usually included in the list of places to visit in Nice.
Nicholas Orthodox Cathedral
Incredibly, this building belongs to Russia and the French awarded the cathedral, the status of French National Monument!
Place Massena
This is a public square, a place for people watching, and hosts national events and ceremonies.
Museums
Museums are major tourist landmarks in every part of Europe. They are well patronized by the westerners. Their knowledge of history and fine arts keep them interested in museums.
A couple of museums are in this city too. Visiting them is one of things to do in Nice.
Roquebrune-Cap-Martin
Absolutely stunning! This is the Bay of Roquebrune.
It is a small fishing village, right on the tip of Cape.
25 km is the distance from Nice.
Visiting such small communes is one of the things to do here.
This attraction lies between Monaco, and Menton, the two places of importance in the French Riviera. It is also part of Alpes-Maritimes department.
Its lengthy name is shrunk to Roquebrune.
Lerins Abbey
This immaculate monastery is among the big tourist attractions in Nice. It is a secluded abbey built in one of the Lerins Islands.
Saint-Honorat Island is the host of the monastery.
Reaching the St. Honorat Islands involves reaching Cannes first. You can rent a car to Cannes.
From Cannes, you can take a ferry to St. Honorat. Half an hour only it takes to reach the island.
Mercantour National Park
You need to drive 70 km north of it to get to the Mercantour national Park.
It's a natural wonder comprising a big 680 sq. km area. It encompasses several beautiful valleys. There are 7 valleys that are among the tourist attractions in Nice.
If you explore deeper, you will come across pristine lakes surrounded by mountains on all sides.
I wonder how the night will be in such a remote and silent spot.
Among the animals that are protected in this National Park, Chamois lives in large numbers and are easy to spot.
It is classified under Goat-Antelope species.
Other wildlife in Mercantour National Park:
Marmots
Stoat
Ibex
Mouflon
Italian wolves
Among the avifauna, if you are a seasoned birder, you will quickly identify a few raptor species.
Partiridges are also found in large numbers in Mercantour National Park.
Old Town of Nice
Old Towns in any city belong to a bygone era but they hold their own charms. You can witness the old-world beauty in the buildings, small cafes attached to cute homes, the roads, and arches, etc.
Organized and guided walking tours of Old Town are available. Visiting the old town is one of the memorable things to do in Nice.
Food tour in Nice
I am sure you want it to be in your first day agenda. A street food tour of Nice will give you an opportunity to taste authentic coastal French cuisine.
Try several of famous French doughnuts, pastries, and croissants.
The Nice street food tour includes the famous French wine tasting too.
Joining a street food tour of Nice is one of the top-most attractions.
Beaches in Nice
Any tourist to Nice will spend quality time in its beaches. After all, you come to the French Riviera to appreciate the beaches and sea views-right?
There are 10 best beaches in it. I am sure; you will find a guided tour operator who takes you to the finest beaches in it.
It is being one of the highly visited places in the French Riviera is quite expensive. Budget accommodation is almost nonexistent here.
I think you would better keep Menton as your base and make a day trip to here.  The distance between Menton and Nice is just 30 km.