Greece is the ultimate haven for beach lovers. With 6000 islands, and a staggering 13,676 km of coastline, there is no dearth of beaches. Given the great range of options, you need a guide to the best beaches in Greece.
Even in that case, there is a problem. There are as many as 540 beaches that are classified under "Blue Falg."
What are blue-flag beaches?
A "Blue Flag" is a certificate given by a group of NGOs. It is known as the Foundation of Environmental Education (FEE).. It is a trademark. 65 such NGOs present in as many as 77 countries are responsible for identifying beaches that meet the standards set by the FEE.
Cleanliness, safety, and services are the areas in a beach that the FEE would look into for giving it the status of Blue Flag.
How do I recognize a Blue Flag Beach? Will there really be a blue-colored flag?
No. The logo of Blue Flag beaches would be: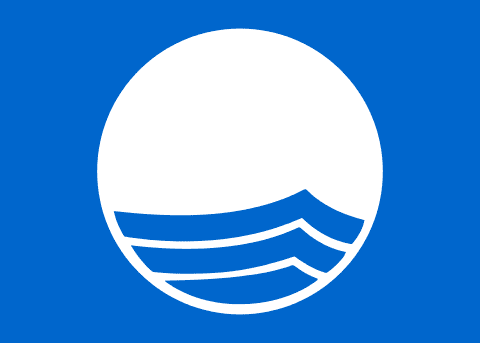 Note:
A Blue Flag status can be withdrawn and reissued. The certificates are given annually. The number of Blue Flag Beaches in Greece has been increasing steadily over the years.
I have a short list of mind-blowing beaches in Greece that you might not have heard of thus far.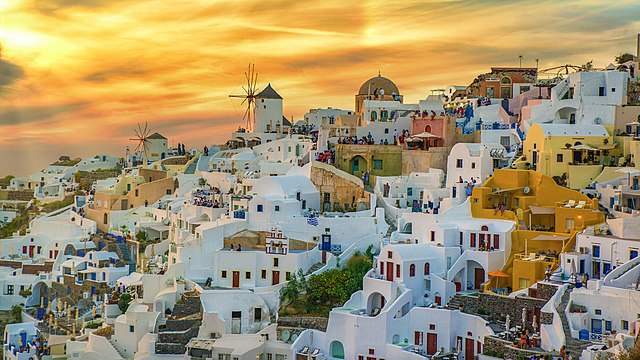 These beaches are mostly not visible from the highways.
9 Beautiful Beaches in Greece
Just read further until you complete the first beautiful beach in Greece in the list. If you are stupefied, then, read on till the end.
Let us begin, amigo.
Saliara Beach
It is alternatively known as 'Marble Beach', because of the marble sized pebbles on the beach. These stones are beautifully smoothed by the Aegean Sea.
Saliara Beach is located in Thassos Island, in the North Aegean Sea. As a matter of fact, it is the northernmost Greek island in the Aegean Sea.
As I mentioned earlier, this beautiful beach in Greece is not visible from the road. You have to walk some distance through a forest to come across the beach.
After having fun at the beach, you can take a full day tour of Thassos Island. It is a highly recommended activity; so, don't miss it after going all the way to Thassos.
How to reach Thassos?
You need to fly to Kavala from Athens. It is the northernmost city in Greece. From here, the ferry ride to Thassos Island is only 75 minutes.
Saliara Beach is ranked as one of the most beautiful beaches in Greece.
Here are some metrics in support of the claim:
ShutterStock as 610 images of the marble beach in Thassos.
Pinterest too, shows more than 300 images.
Voutoumi Beach
Voutoumi Beach is located on Antipaxos Island.
The picture-perfect beach is literally hidden from any road because it has mountains on three sides! This is an incredible and God-blessed geography,
Antipaxos Island is surrounded by the Ionian Sea, on Greece's west coast.
How do I go to Antipaxos Island?
First, you need to fly to Corfu Island in the Ionian Sea. From Corfu, water taxi will get you to Paxos and Antipaxos Islands.
You can make a day trip to Antipaxos from Corfu. The boat reaches Paxos first. The next dock will be at Antipaxos. It is only 15 minutes long.
Video of the boat ride to Antipaxos.
Isn't the geography breathtaking? On the way, you can see a few 'blue coves' that will make you wish your boat went inside one of the blue coves.
In Voutoumi Beach, one of the most beautiful beaches in Greece, the water is a turquoise color that contrasts attractively with the white beach with  has cute pebbles. Don't try to collect the white pebbles; it is prohibited.
The position of Voutoumi Beach itself is like a cove because of the forested-mountains on its three sides.
Voutoumi Beach has restrooms, restaurants, umbrellas, and lounges.
Antipaxos is an under-visited Greek island, and therefore, you will see a small crowd only at Voutoumi Beach.
Red Beach
Did you notice the red colored sand, touching the Aegean Sea? It is due to iron oxide, which is a consequence of volcanic activity.
Oh, I forgot. This beautiful beach in Greece is located on Santorini Island, one of the most popular Greek islands.
To reach the Red Beach, you have to hire a cab from Fira, the capital city of Santorini Island.
The distance to be covered by the cab is 15 km. The name of the place is Akrotiri.
The village itself is situated on a hillock with great views of the Red Beach.
Myrtos Beach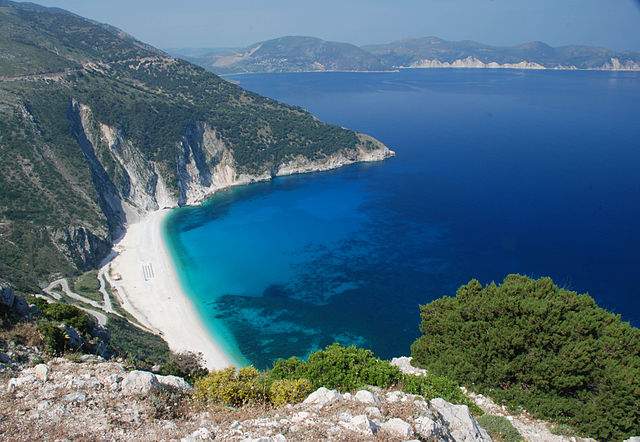 It's one more beautiful beach in Greece that is certainly underrated.
Myrtos Beach is located on the Ionian island of Kefalonia.
As if to safeguard the beauty of this breathtaking beach, two tall mountains, namely Agia Dynati, and Kalon Ors stand on either side of the Myrtos Beach.
On this beach, you will find small marble stones that were once brittle limestone.
The arc you saw above is the reason for its high ranking as one of the most beautiful beaches in Greece.
You have to climb down a steep cliff from the road to access the beach. Such "climb-down' access beaches are always breathtaking. In addition, they stay clean because of their invisibility in the town.
How do I reach Kefalonia Island?
You can fly from Athens. The flight duration is only 65 minutes.
If you like to cross the Ionian Sea by ferry, you have to travel more than 3 hours from Athens to Killini, the port city on the west coast of Greece.
Ferrying duration from Killini to Kefalonia is 80 minutes. The island's alternative spelling is Cephalonia.
It is the largest Greek island in the Ionian Sea and also the most beautiful one, with a terrific landscape, and incredible beaches.
Pink Beach in Elafonisi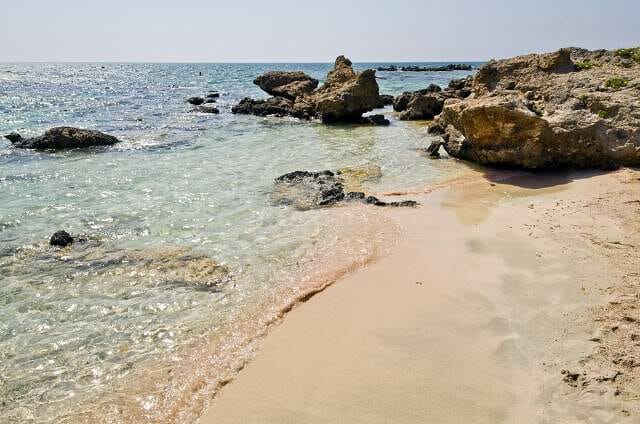 Elafonisi is an islet that sits at the extreme left of Crete, one of the largest islands in Southern Greece, in the Mediterranean Sea. It is so close to Crete that you can walk across when the tide is low.
Pink beaches are rare and the most attractive among other colored beaches in the world that include, white, black, red, and green sand.
The pink color is due to the same colored microorganisms and a kind of seaweed.
How do I reach Elafonisi Beach from Cree?
Your first destination is "Paleochora", a port town in south Crete. It is 210 kilometers southwest of Heraklion City.
From here, Elafonisi is only 50 km away and can be crossed by ferry. Half an hour is the voyage.
Alternatively, you can drive all the way from Heraklion, the capital of Crete, to Elafonisi Beach. The distance to be covered is 190 km!
Navagio Beach
We are still exploring the stunning beaches in Greece in the Ionian Sea.
The Navagio Beach is located on Zakynthos Island.
The beach's alias name is "Shipwreck Beach". The bay is again a cove, which implies that it is a bay within a bay that promises soft waves.
It creates almost a lagoon that is ideal for swimming, stand-up paddling, snorkeling, and kayaking.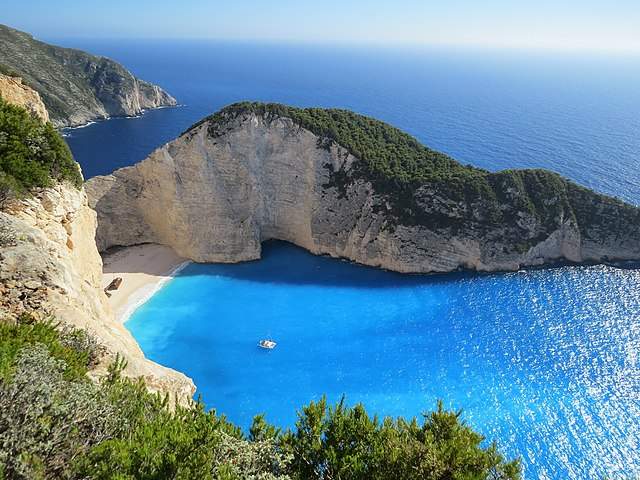 Even during the summer which is super hot in Greece, this Zakynthos beach attracts quite a few tourists.
To reach the lovely beach itself, you have to come by boat. Wouldn't that be different-approaching the beach from the land and from the sea?
How do I go to Zakynthos Island?
Flying from Athens takes a little less than an hour. If sea passage is your passion, reach the port city of Killini and ride a ferry for three hours to reach Zakynthos Island.
There are a few sea caves that are worth visiting during a boat tour of Zakynthos.
Moreover, there are two water theme parks and a couple of more spectacular beaches in Zakynthos.
Porto Katsiki Beach
We will all be bewildered if Porto Katsiki Beach is not included in the list of terrific beaches in Greece. Look at the scene; it commands a place even on the list of the best beaches in the world.
I think Lefkada Island, the host of this beach, is the only Greek island that is connected with its parent by a road in the form of a floating bridge.
Lefkada Island has several aliases and is surrounded by the Ionian Sea.
If you are island hopping in the Ionian Sea, you can reach Lefkada Island by ferry from the following islands:
Kefalonia
Ithaca
Meganissi
Ithaca is the nearest Greek island to Lefkada. The ferry ride lasts just 20 minutes.
The extremely attractive Port Katsiki Beach is located a bit far from Lafkada town.
To access the beach, there are two options.
Climb down a staircase from the top of the cliff. There are 80 steps that will be tough while climbing back up to the parking space on the top of the cliff.
Arrive by a boat from Nydri town on Lafkada Island.
Both options have mind-blowing views.
One can rent beach umbrellas and furniture. There are no hotels to stay near Port Katsiki Beach.
There are a couple of beach bars to quench your thirst.
Agios Ionnis Beach
Finally, I am taking you to one of the highly-visited Greek islands called Mykonos.
Mykonos Island is floating in the Aegean Sea, south of Greece.
Agios Ionnis Beach is usually your first visit from your hotel because it is one of the top ranked beaches in Greece.
Here is a video of Agios Ionnis Beach:
The beautiful blue Aegean Sea is damn clear in this part of Greece. A promenade runs along Agios Ionnis beach, but it is devoid of benches to sit on and watch the sea. Moreover, I didn't see any attractive shops, restaurants, or cafes lining the promenade.
You need to go down a paved road to access the beach. Beaches that fall into this category (climb down to reach the sea) are always more attractive than the beaches on the plains.
Agios Ionnis Beach has the following facilities:
Restaurants
Taverns
Restrooms
Umbrellas
Lounges
Water sports
Mykonos Island has several things to do, and you need two days to enjoy this Greek island.
Matala Beach
Matala Beach is in Crete, a very popular and very large Greek island of Crete.
Crete is located in the Mediterranean Sea, south of Greece's mainland.
Crete is well connected with flights and ferries from Piraeus Port on the Greek mainland.
While the flight duration is only 50 minutes from Athens, the voyage takes nearly 9 hours, but it will be a memorable sea passage.
Matala Beach is a hot spot in Crete and hence is equipped with comfortable hotels, restaurants, taverns, restrooms, beach chaises, and boat tours to nearby uninhabited islands that include Dia Island.
To sum up, beach buffs from Europe prefer the beaches on the Greek Islands, while those living in Asia go to countless islands in Indonesia.