Have you seen these breathtaking North Carolina attractions ?
One of the South Eastern States of the United States, North Carolina has its own share of terrific tourist landmarks.
Even it has its own islands numbering 15, in the Atlantic Ocean.
Similar to a few other American States, North Carolina's Charlotte is much bigger than its capital Raleigh.
There are several national parks that include the very popular Great Smoky Mountain National park, a World Heritage Site.
Moreover, North Carolina is blessed with a whopping 41 state parks! They are all neighbors' envy.
In case if you are curious, North Carolina's neighbors are:
Virginia
Georgia
South Carolina
Tennessee
List of North Carolina Attractions



Eno River Banks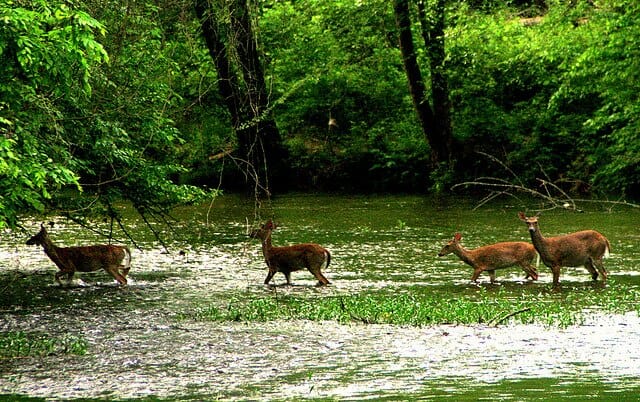 What a lovely place! If a riverbank has dense forests on both its sides, you can surely expect animals and birds.
Just spread a carpet on the banks and sit silently for several minutes. You will really enjoy the sound of the water flow, bird calls, and movements of forest animals.
Eno River is a tributary of the Neuse River, one of the major rivers in North Carolina.
An additional attraction is the Eno River State Park. Its best attraction is a long canopy walk.
Probably, North Carolina's hiking trails are also the envy of its neighboring states. Here is a sample fact.
The hiking trails of Eno River State Park.
The Eno River and its surrounding forest areas have several trails that include:
Cabelands Trail
Cox Mountain Trail
Eno Trace
Fanny's Ford
Eno Quarry
Shakori Trail
Laurel Bluffs trail
Pump Station
So many hiking trails in the Eno State Park mean there are hikers' spectacular landscapes. In addition, if the hiker is a seasoned wildlife lover and stays alert during his hiking, he can spot fantastic birds, butterflies, and deer species.
Appalachian Mountains
It is a wonderful place for hiking over several valleys of this great mountain range, including the celebrated Blue Ridge Valley.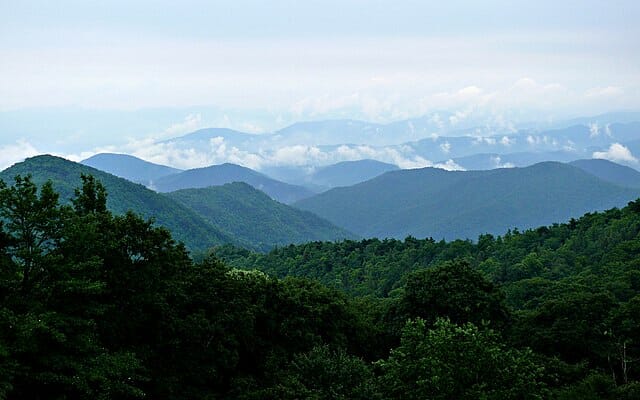 I think these two places are the biggest North Carolina attractions.
Cullasaja Waterfalls
The falls are fed by the Cullasaha River. Did you notice the lush flora on either side? That is Nantahala National Forest for you. It is a big birding haven. Nature lovers frequently visit the forest and take walk through after a dip in the waterfalls.
Piedmont City
Piedmont is one of the large cities in North Carolina. It is the most visited city by the tourists because of its rich natural beauty. Browse through any list of North Carolina attractions to see and you will definitely find Piedmont and its surrounding beautiful mountains that include>
Sauratown Mountains
Brushy Mountain
Pilot Mountain
Crowder's Mountains
Uwharrie Mountains
South Mountains.
Graveyard Fields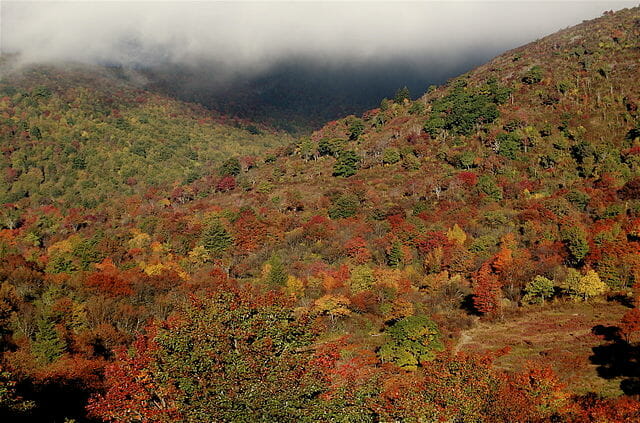 The name is a misnomer obviously-eh? The scene is during the fall and is a breathtaking array of colors.
Graveyard Fields is one of the valleys in the Blue Ridge Mountain range.
Since this place to see in North Carolina is seasonal, it doesn't appear on the list of North Carolina attractions.
Beaches in North Carolina
North Carolina has a long coastline of the Atlantic Ocean running up to 490 km!  Naturally, there are quite a number of beautiful beaches in the state. In addition, the state's 15 islands and islets beckon beach lovers during the summer season.
North Carolina has 301 miles of coastline, from the Outer Banks to the South Carolina border, and nearly all of it is accessible beachfront. But just like barbecue, don't go expecting one single style of Carolina beach: whether you're looking for family fun or peaceful places to unplug, there is something that will suit you. These are the best beaches in North Carolina.
It is regarded as one of the best beaches in the U.S. And, it is known mainly for shell hunting. It is an engaging hobby. Hunters with infinite patience are rewarded with great catches of shells of myriad sizes, shapes, and incredible colts. I too am fond of shell collection.
More than the water sports and beach activities, the Currituck Sound is one of the main North Carolina attractions. Usually, to see a 'sound', you have to go all the way to Norway or New Zealand. A few isles including Bodie Island, Roanoke Island, Hatteras Island, and Ocracoke Island, float on the Currituck Sound.
I think the Outer Banks is a must-see place in North Carolina.
It is one of the beaches in Outer Banks, North Carolina. Visitors to this beach can also visit Currituck National Wildlife Refuge, located close to the Corolla Beach. Strangely, wild horses are found roaming leisurely on the beach.
Figure Eight Island Beach
Wrightsville Beach
Carolina Beach
Wrightsville Beach
Of course, there are several more beaches but I only named a few. After all, 490 km of coastline, mate!
Blue Ridge Parkway
One of the biggest tourist attractions in North Carolina is the scenic highway called the Blue Ridge Parkway. It is one of the National Parkways, a specialty of the United States. No other country has this feature dedicated and highly-preserved national highways.
Driving on these national parkways in America gives one ultimate pleasure.
The Blue Ridge Parkway runs for a mammoth 75 km and passes through North Carolina and Virginia states.
If you hit this highway, you can visit the highly-popular Shenandoah National Park and the Great Smoky Mountains National Park.
Numerous sight-seeing attractions along the Blue Ridge Parkway command a dedicated blog post. I will soon get to work on this topic.
Shopping Malls
North Carolina is not lagging behind New York when it comes to shopping pleasure.  Here is a few shopping malls in the state They are spread over the entire state of NC.
SouthPark Mall-Charlotte
Northlake Mall-Charlotte
Carolina Place Mall-Charlotte
Hanes Mall-Salem
Thruway Center-Salem
Crabtree Valley Mall-Raleigh
North Hills Mall-Raleigh
Pisgah National Forest
Entering a lush green forest guided by a forest ranger or approved official guide is something naturalists would look forward to.
Pisgah National Forest, the first of its kind in the Eastern part of the U.S. is located in the evergreen Appalachian Mountains.
It comprises a huge area of over 512,000 acres! Such a large area is spilled over two other mountains in NC that include the Blue Ridge and Great Balsam. The maximum elevation is 6000 feet!
You are sure to find a few waterfalls in such a sprawling forest.
When three rivers flow through the Pisgah, stumbling onto a waterfall is not a surprise. Hikers and bikers are the lucky people to capture the mountains streams and cascades with their cameras. There are exclusive trails for mountain biking.
Ashville City
Ashville city is one of the major North Carolina attraction in tourist itinerary. It is the gateway to the Blue Ridge Parkway and part of Pisgah National Forest.
The city's downtown is beautiful with lovely buildings and casual dining areas. Biltmore House is a good place to see in Ashville. It is said to be the private residence of Biltmore Estate.
What pure Victorian architecture! It is rated as one of the historic buildings in the U.S.
The city's numerous parks and quaint neighborhoods include Gove Park, Chestnut Hills, and Colonial Heights.
Ashville's large botanical gardens is another must-visit tourist landmark.
State Parks of North Carolina
As mentioned at the beginning of this article, North Carolina has as many as 41 state parks. The permanent residents of the state are extremely lucky to have so many places for outings.
I recommend a few of the state parks below that you must allocate time to visit.
Apart from walking trails, the Hanging Rock State Park offers numerous campgrounds and RV parks. There are 5 waterfalls in this 9000-acre state park.
Ashville city again is the gateway for this NB state park. Hickory Nut Falls attracts visitors to this state park.
Merchant's Millpond State Park
All these parks located in different counties of NC are known for their picturesque walking trails. More state parks appear on the list of attractions in North Carolina.
Waterfalls in North Carolina
You have already read about a few waterfalls above. The Linville Falls is the biggest crowd-puller among all the falls in NC.
This waterfall is set amidst lush green flora. Here is another view of the Linville Falls.
If you are visiting Linville Falls, you may also visit some more waterfalls nearby such as Toms Creek Falls, Duggers Creek Waterfall, and Crabtree Falls.
If you take into account the 14 National Parks and 41 State Parks including the Blue Ridge Valley, I think North Carolina deserves a separate trip to the US to visit all North Carolina attractions.