I have been living in Bangalore since the end of 2013. During these seven years, I have come to know that the Bangaloreans generally like to hit the surrounding hills, waterfalls, and forests during the weekends.
One of my friends frequently go on long bicycle trips to offbeat tourist attractions that include rocky hamlets and hidden waterfalls near Bangalore. Once, he completed a 300 km cycling trip on a single day!
I have come across numerous posts on Facebook and blogs, by Bangaloreans', narrating their adventure activities. From them, I have curated information related to waterfalls near Bangalore. There are several adventure clubs in Bangalore that organize outdoor activities that include:
Walking
Hiking
Trekking
Camping
6 Beautiful Waterfalls near Bangalore
I am happy to share my findings that will be useful to youngsters from Bangalore to go to such waterfalls and narrate their experience online.
Muthyala Maduvu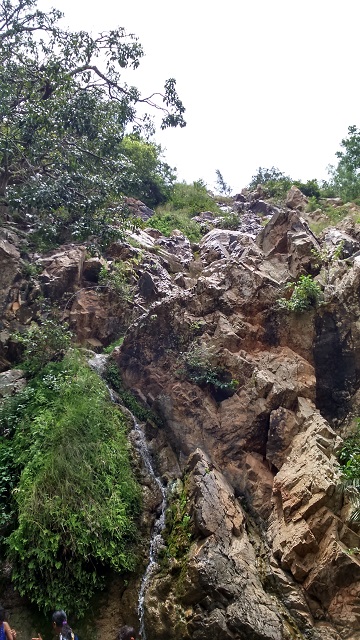 The water that is falling here is not voluminous but just a faint string of water droplets that appears like glittering pearls in the sunlight. Therefore, this mini waterfall had earned the name "Pearl Valley".
The small rocky hill has a backdrop of green-top mountains that attract mountain climbers as well as numerous birds.
So both bird watchers, as well as adventure buffs, visit this waterfall near Bangalore during the weekend.
The location of Muthyala Maduvu is right outside Bangalore city limits, near Anekal which is just 15 km from Electronic City. Two-wheelers should look for Anekal-Thally Road after reaching the Anekal town.
Nature lovers would also be interested to go to a lake called Tattakere Lake near the waterfall.
Tattakere Lake, Anekal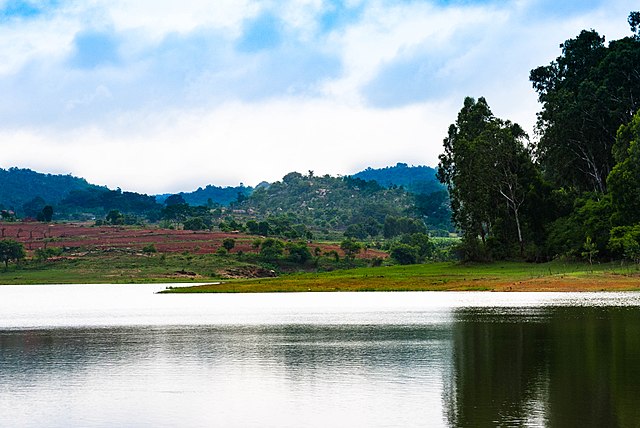 It is useful to note that there is an entrance fee of Rs.30 is collected by the local municipal authorities. In addition, in order to see the waterfall, it is advisable to plan your adventure trip from August to November.
For an ideal city escape, Muthyala Maduvu waterfall near Bangalore is just a perfect picnic spot.
Facilities include a few restaurants and a public restroom. As a matter of fact, you will be happy to know there is even a resort run by the KSTDC.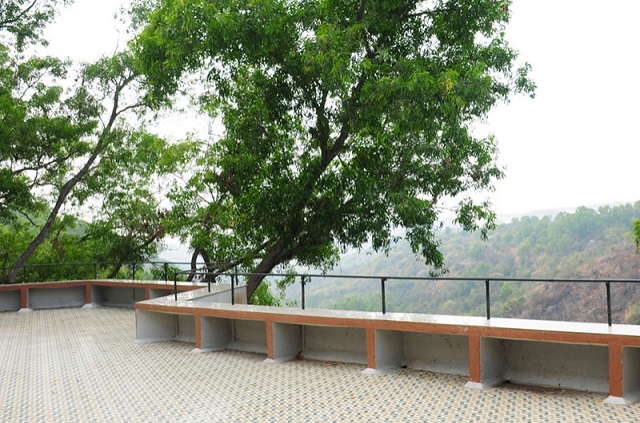 Good location overlooking the hills-eh?
To book your room, please contact 91 80 4091 4661
.An overnight stay in the resort gives you an excellent opportunity to see the forests and mountains in the early morning.
Thottikallu Waterfall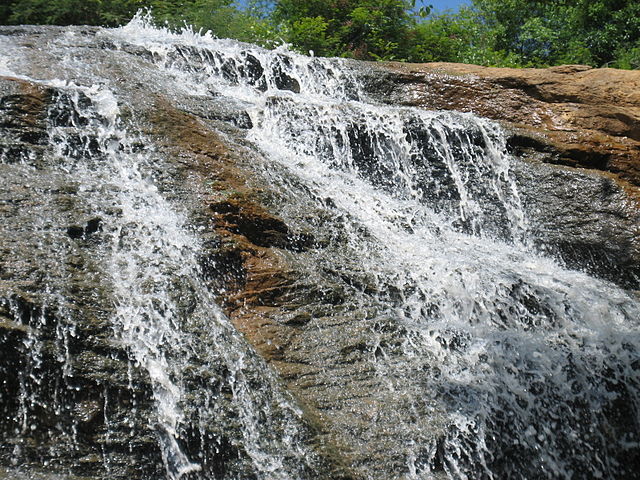 At the outset, I must warn you that this picturesque waterfall near Bangalore is not allowing visitors as of now because elephant herds are seen. However, I hope the Thottikallu waterfall will be opened soon for the public.
This waterfall is located just a couple of kilometers from the famous 'Art of Living', off the Kanakapura Road, a big residential area in Bangalore.
The terrain to the waterfall is rocky and rough thus attracting bikers and hikers who can't resist the challenges to their stamina.
If you are a resident of Bangalore and if you are looking to rejuvenate, the Thottikallu waterfall near Bangalore is an excellent option. The place is very much within Bangalore city.
Shivanasamudra Falls, Mandya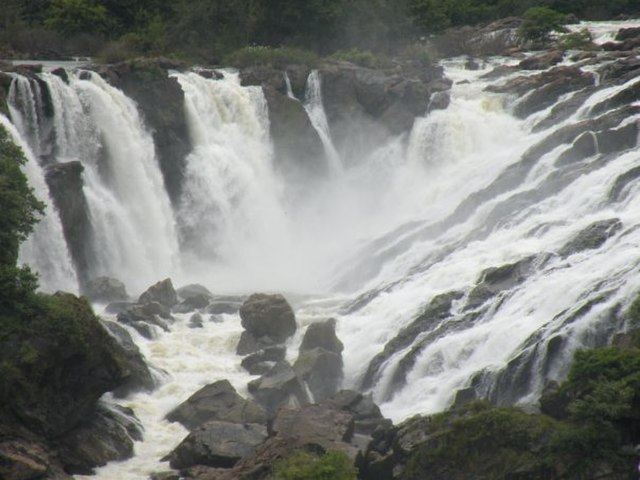 The Shivasamudram waterfalls actually comprise of two waterfalls namely:
Gaganachukki Falls
Barachukki Falls
Interestingly, the twin falls belong to two different districts namely the Mandya District and the Chmarajanagar district respectively.
Yes. the river Kaveri splits into two, thus forming a small island. The Shivasamudra town is an island town.
However, the source of the water for both these waterfalls is River Kaveri. The roar of the twin falls can be heard at a distance because the water is falling from a height of 300 feet!
Though these two districts are not known for receiving copious rains, the twin waterfalls near Bangalore receive water throughout the year. However, to see the water in full flow, you need to visit from July to October.
From Bangalore, you need to travel either in a taxi or by bus. The distance to be covered is 130 km only.
There is a watchtower in Shivasamudram that provides a terrific view of the Gaganachukki waterfalls.
Additional attraction near Shivasamdram Waterfalls:
This part of Karnataka (between Bangalore and Mysore) is known for several Renganatha temples.
Sri Ranganathaswamy Temple located here houses the Lord Renganatha and He is called "Madhya Ranga".
Though the sacred temple is hardly opened, there is a resort called "Chukkimane Resort". Some tourists from nearby Mysore and Bangalore spend their weekend here because the place is tranquil and cool. In addition, it is not a crowded day trip spot from the twin cities.
Here is another view of the Shivasamudram waterfalls near Bangalore.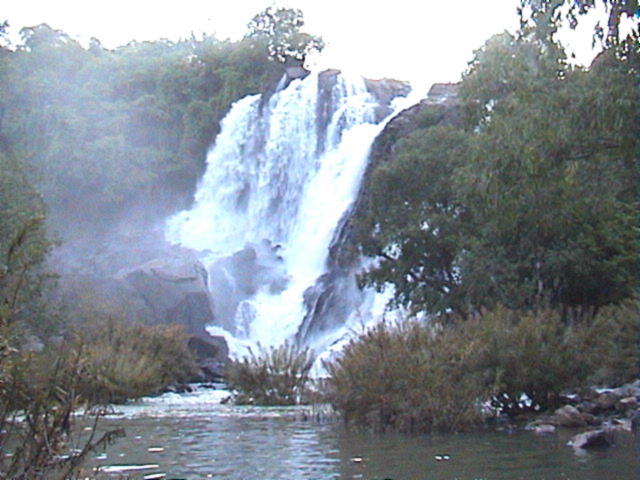 There are not many eating options here but the town of Mandya provides several vegetarian restaurants. However, it is too far off (60 km ). It is better to eat whatever is available in the small restaurant run by the KSTDC.
Note:
Beware of monkeys.
Balmuri Edmuri Waterfalls, Mysore
As the name suggests, this is another twin waterfalls that are located just 3 km from Mysore city, on the way to the popular Krishna Raja Sagar dam (Brindavan Gardens).
Balmuri and Edmui waterfalls are two very beautiful waterfalls that are separated by just 500 meters from each other.
Kaveri River feeds these two small waterfalls.
Since these two waterfalls near Bangalore are easily accessible from Mysore, tourists are always found, enjoying the cool water bath and relaxing on the fringes of the falls.
Places to see near Balmuri and Edmuri Waterfalls.
As you are very close to Mysore, you can visit the Ranganathittu bird sanctuary, the Mysore Palace, and the beautiful Brindavan Gardens.
Hogenekkal Waterfalls, Dharmapuri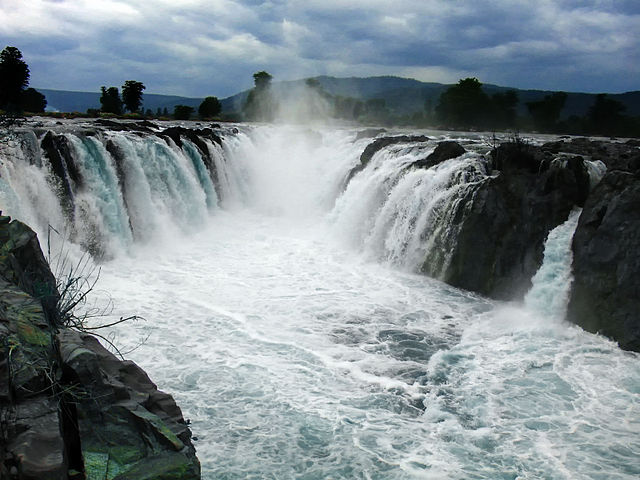 Hogenekkal Waterfall is one of the most gorgeous and voluminous waterfalls. It is the place where the River Kaveri enters the adjacent state of Tamilnadu. Surprisingly,  of all the waterfalls near Bangalore, the Hogenekkal waterfall in Tamilnadu attracts the largest number of tourists.
Fondly called the "Niagara Falls of India," because of spraying water vapor, the fallen water forms a large lake that is ideal for swimming and boating.
The boat here is called 'parisal'. It is a circular coracle made of bamboo and it is fun to take a ride o this.
Parisal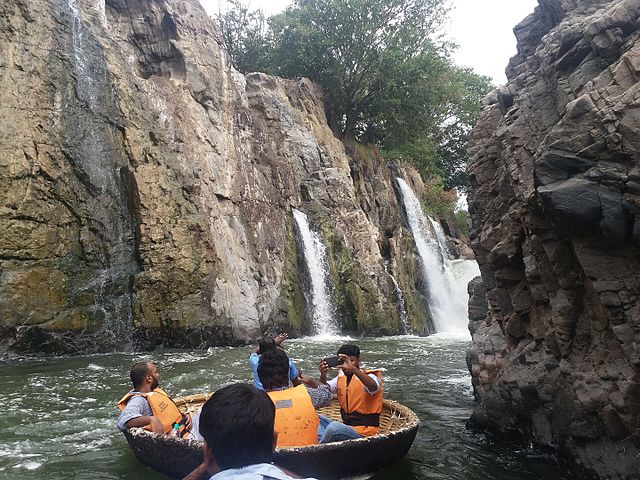 The various fish and crabs that are caught freshly from the river are cooked right on the road-side. There is quite a demand for this popular fish fry.
Hotels to stay near the Hogenekkal waterfall are numerous but they are not maintained neatly.
Hogenekkal Waterfall is located 125 km from Bangalore.
Mekedatu Falls,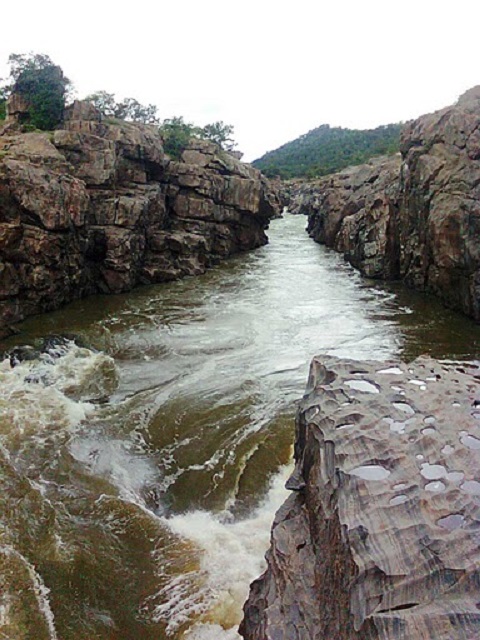 It is a surprisingly beautiful waterfall near Bangalore because the water is falling through a gorge and flows through a narrow passage. Since the water is voluminous during the monsoon and the passage is narrow, the gushing and swirling water makes the scene very beautiful.
Mekedatu Falls is located in Ramnagara, on the way to Mysore from Bangalore. The distance from Bangalore is exactly 100 km.