Living in Canada and just touring around the outskirts of Ottawa city I have seen houses where a boat is parked. The size of the boats differed.
When I asked my son why a boat is parked, he told me the Canadians love to own their boats that are towed to their car during the spring and summer season.
They go to a river or a lake nearby and enjoy a session of boating or floating.
Canada is a God-blessed country with so many large lakes and several rivers. The Canadians use their own boats to take a jolly family ride in their boats.
I thought it is odd. I mean not the real boats or the water adventure but why don't they just use inflatables instead of heavy boats that are also not easy to maintain?
Surely, there are inflatables for all kinds of water sports that include:
Floating
Stand-up paddling (SUP)
Kayaking
White-water rafting
Boating
Water skiing
Easy to Carry Inflatable Water Sports Equipment
I am happy to share that I found out various inflatable water sports that are really affordable and they don't require big space to store
In addition, inflatable floats or kayaks are damn easy to carry.
Inflatable Kayak
Kayaking is an enjoyable water sport, especially on non-moving water bodies such as lakes and lagoons. Of course, older people with experience in kayaking can take their inflatable kayaks to a lake nearby.
You can get a pair of sturdy oars made of lightweight aluminum metal.
Who says you need to pay high rental prices or install a roof rack on your car to enjoy kayaking?
Look at this beautiful inflatable kayak with a great double-headed oar.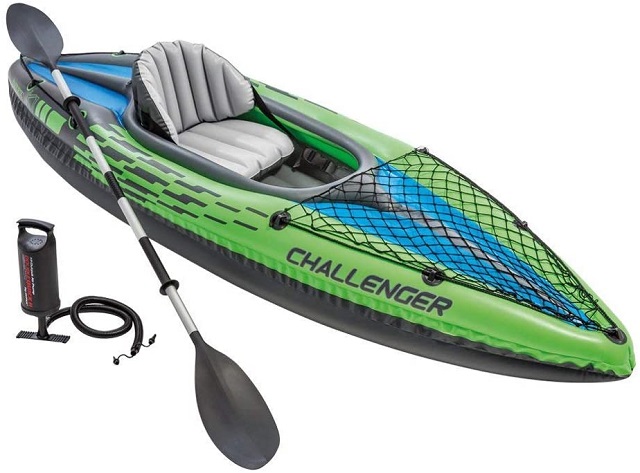 Buying your own inflatable kayak is definitely cheaper than renting a wooden or FRP kayak.
You may be wondering where to fill up the kayak with air once you reach the kayaking water body. Do not worry, mate. Your purchase of an inflatable always comes with an air pump.
Most beautiful way to float in your pool
Floating on water is always fun and exciting.  Whether it is on our own swimming pool, or a public pool, or a lagoon at our local beach, we love to float either on our back or in an inflatable float.
A few decades ago an inflatable float always will be a bed-like structure. It is so banal and unattractive when compared to modern-day inflatable floats.
Don't you think this golden swan makes a beautiful float? Do you think children only would love this? I am 65 and I sure would like to get in.
This float is called "Poolcandy Giant Animal Pool Float". Golden Swan float can accommodate two adults!
If you are holding a pool party and throw this golden swan inflatable raft on the pool, your party will even get published with photos in your neighborhood or community magazine.
Additionally, I saw the image of a golden ball to play. I suppose it comes with the float. Wow! Isn't that wonderful?
Inflatable Boat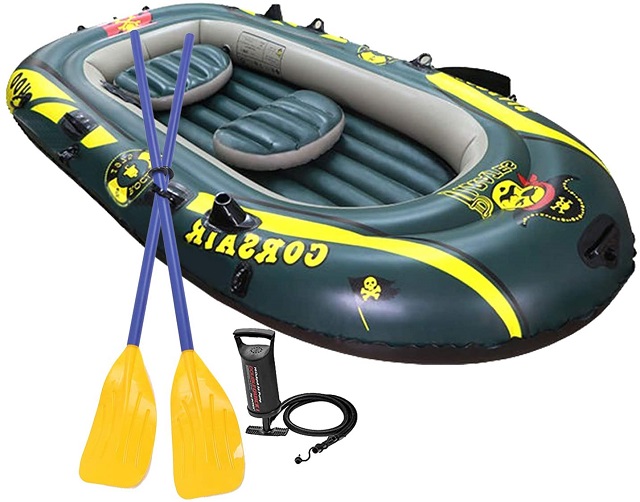 Ah, I was coming to this gorgeous-looking inflatable boat that is so easy to carry in your car boot. This inflatable boat is so handy that you can yield to your urge for a self-oaring boat at any time you want, provided there is a water body (preferably a river or a canal) near your home.
This colorful-looking lightweight boat can carry three people maximum. It has enough space to hold your camping gear in case if you want to pitch up your tent on the other side of the lake or a river.
If you are an angling buff, you can gather two more like-minded friends and go on a fish hunt in this inflatable boat.
As the boat measures 93 inches in length and 54 inches in width, it is definitely spacious enough to keep your fishing equipment, air pump, and boat ropes that come along with your purchase. Amazon surely thinks of everything-right?
Not only those extras, buddy, but your airboat also has four chambers that are filled with the air so that even if one chamber is leaking air, you can still surge forward happily and safely.
Inflatable stand up paddleboard
Stand-up paddleboard is shortly mentioned as 'SUP' n the water sports arena.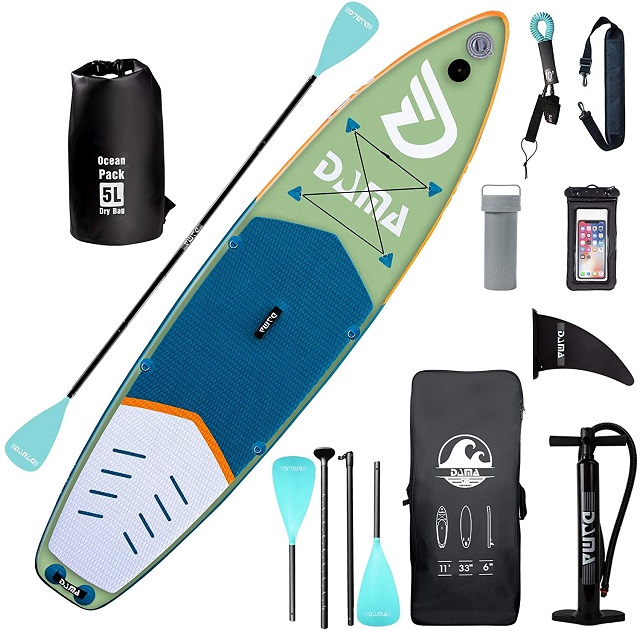 This category of inflatable water sports is gaining immense popularity among men and women who are naturally adventure-minded people.
Similar to a kayak or a canoe, this is also a boat on which you stand instead of sitting and move the inflatable board with an oar.
If your legs beg some rest, you can either kneel down or squat on the flat surface of the board and row ashore.
Watch a video uploaded by Amazon for the benefit of prospective buyers.
I observed an amazing facility in this inflatable water sports. There is a provision to mount your camera that can catch your rowing movements as well as your emotions! Wouldn't that be fantastic!
You can even think about telecasting your inflatable stand-up paddleboarding adventure live with the camera stand.
The paddle's length can be adjusted according to the height of the person's height who rows.
The free handpump that is provided when you buy this inflatable SUP, helps you inflate the board in just ten minutes!
For beginner paddlers, there is a pair of latches to which the ankles can be harnessed.
Inflatable kayak for whitewater rafting.

Whitewater rafting is one most thrilling water adventures in the world. In this water sport, two or more persons navigate a raft through gushing water on an uneven surface with ups and downs that are called 'rapids'.
For whitewater rafting, the inflatable kayak is the most suitable raft because of its lightweight. These inflatable rafts don't ever sink.
This particular inflatable raft is meant for two rafters who can comfortably seat provided on the kayak.
Amazon has a big range of inflatables that are meant for just fun as well as water sports.
Click the link below to browse through the listings on Amazon. https://amzn.to/2QJXMtc