Goa, the number one beachside holiday destination in India attracts tourists with beautiful beach resorts facing the Arabian Sea.
No one in their right mind would choose to stay away from the charming beaches of Goa.
I had been to Goa. Before planning my trip, I looked at the various beach resorts near the popular beaches. I must admit some beach resorts were really expensive but there were hotels facing the Arabian Sea that were affordable.
7 Ultimate Goa Beach Resorts
For any first-timer, picking a hotel to stay in Goa can be an arduous task. However, I believe this short guide to beach resorts, beachfront hotels, and villas in Goa can be handy to anyone who is contemplating a weekend holiday in Goa.
These Goan beach resorts come in different price ranges. Pick the one that is most affordable to you.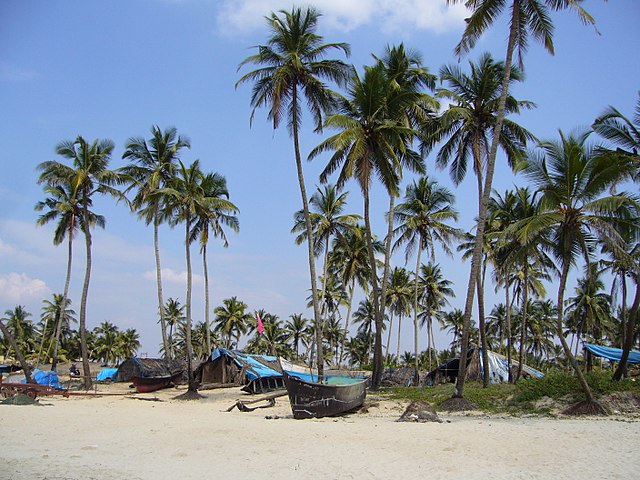 Note:
Since beach resorts and hotels change their rate per night as the tourist season varies, it is advisable to call them to find out the price on the day of your intended stay.
La Grace Resort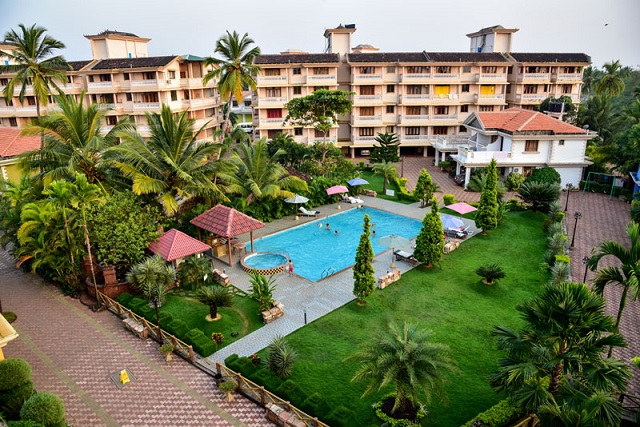 I am impressed by the beauty and comforts of this beach resort in Goa. A swimming pool is a must in any beach-facing hotel; this resort has one.
La Grace Resort is located near Vaddy Beach in Margo South Goa. Generally, South Goa is preferred over North Goa as South Goa is the happening place.
The resort is aesthetically landscaped with lush green grass and coconut trees.
The resort is fitted with two restaurants of which one serves authentic Goan cuisine.
Apart from just two-bed deluxe rooms, they offer two-bedroom service apartments and even a villa with 3 bedrooms!
Rated highly for thoughtful service and comfortable rooms, La Grace Resort should be on your list of hotels to stay in when you holiday in Goa.
Whispering Palms Beach Resort, Goa
The Whispering Palms beach resort is just a stone's throw away from the famous Candolim Beach.
You can book either just a studio room if you are vacationing alone. If you are taking your spouse, then, a room with a balcony is the right choice.
If kids are accompanying you, then, book a room with a  spacious terrace that offers a beach view. All the rooms' price includes free breakfast.
Though this 4-star resort in Goa boasts of over 100 rooms for its guests, it is better to book in advance if you are planning for a holiday during the Christmas period or New Year eve.
This is the view of their heart-shaped swimming pool.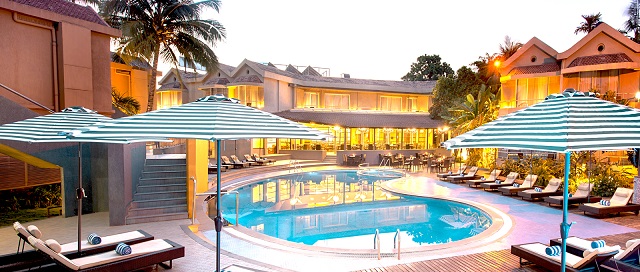 The rooms come with wi-fi, mini bar, air-conditioner, and your own, anytime coffee maker.
Since this is a resort, their website says water sports are also offered but that link draws a blank.
The facilities include two restaurants and two bars of which one is a poolside pub.
What is more impressive about this Goan beach resort is its offer of several deals and packages. I like the idea of 'Last Minute Deal' and 'stay 4 people but pay only for tree'.
Nice-eh?
Beleza By The Beach Resort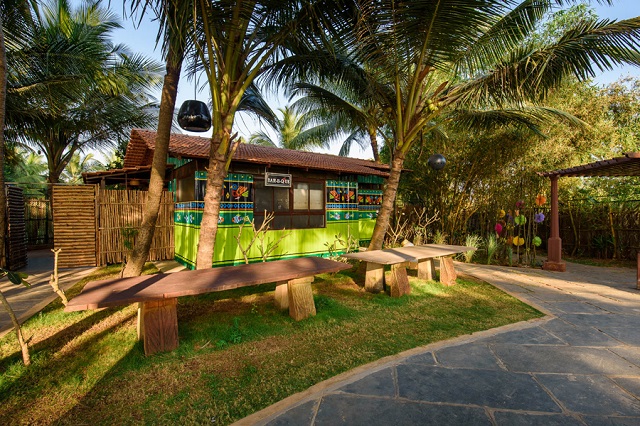 From the look of it, this Goan resort is an eco-friendly property.
The resort is built amidst existing countryside without spoiling the coconut trees and paddy fields.
In spite of its rural settings, this resort in Goa is located close to Colva Beach.
The guests of Beleza By The Beach Resort Goa are in for a surprise when the sunsets. At that time, when the weather cools down, they can go strolling in the nearby shopping area called 'Colva Promenade'.
Accommodation types include spacious independent villas facing the sun-lit garden. Alternatively, you can opt for a terraced suite that is warm.
This beach resort has thoughtfully provided a private road to the beach. The road is fenced on both sides with coconut trees on either side of the rod.
Of course, the rooms are air-conditioned because Goa is hot even during winter.
Belize By the Beach has several enticing offers. To look at how can you save on your stay with this beach resort in Goa,
Hotel Leela
The Leela group of hotels is quite famous in India. They have resorts functioning in several major cities that include Chennai,  Bangalore, New Delhi, Mumbai, and Jaipur. Hence, they are experienced in building their hotels in excellent locations and good at providing impeccable guest services.
Leela beach resort in Goa offers typically ultra-luxury rooms combined with great food and other activities including a spa.
Its eye-catching interiors,  landscaped gardens, and comfortable furniture paved the way for the Leela Hotel in Goa to receive the best beach resort award.
Out of various types of rooms offered by the Leela Hotel, the Lagoon Terrace Room is the choice of people with fine taste.
This Goan beach resort is equipped with its own golf course. Imagine how large the property can be.
Naturally, with such luxurious amenities, the price tag is quite high at over Rs.22,000 per night.
Here also is an irresistible 'stay 4 but pay for 3' offer.
Park Calangute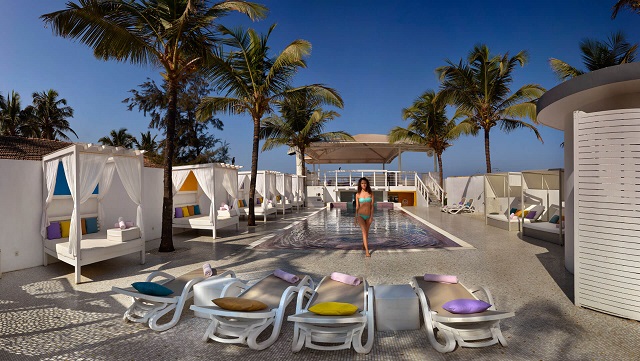 You see the poolside cabanas in the image above. That's how attractive is the poolside of the Park Calangute, a five-star beach resort in Goa.
The name says this ultra-posh luxury resort is located near Calangute Beach in Goa.
The beach is named after the town (Calangute) in which it is located. Calangute beach is the most popular beach in North Goa. You can see a large crowd of onlookers at the beach during sunset.
This Goan beach resort is stylishly decorated with cozy beds and tasteful furnishings. The restaurant named 'Love' is aesthetically beautiful with light colors all around.
The Park Calangute beach resort offers several water sports activities for its guests that include water-scooter, parasailing, and water skiing.
Their 'Aura Spa' is always pre-booked because of the great massage facility.
Three types of rooms offered with varying sizes but all are provided with every modern amenities that you can think of.
The most striking facility in the Park Calangute is their rooftop bar called 'Peace Bar'.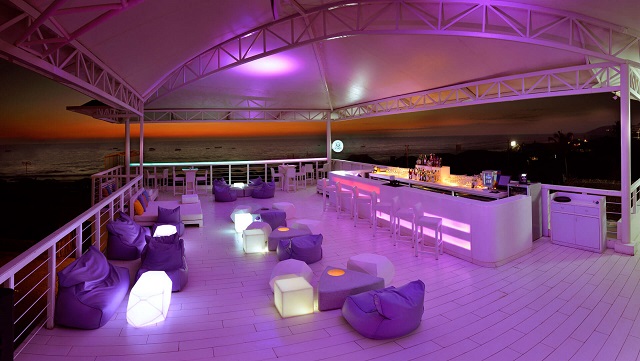 Oh, God! What a purple shade! It is simply breathtaking.
Estrela Do Mar Beach Resort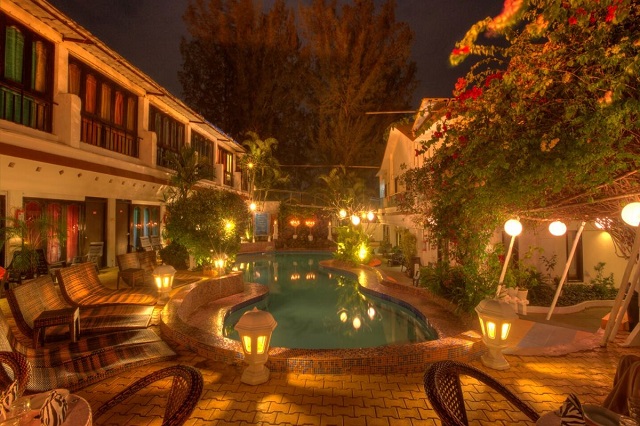 This is a long name for a resort in Goa that I am going to shrink to Estrela Beach Resort in Goa, just for convenience sake.
I think this Goan beach resort offers the maxiom types of accommodations that include:
Standard Room
DeluxeRoom (if there is a standard room, there is always a deluxe room-right?)
Swiss Cottage
Grand Swiss Cottage
Junior Suite
Club Room
The facade and the poolside look absolutely romantic and charming. The cottages are ideal for honeymoon couples.
Operating for the past 40 years, I am sure the management has learned all the good things about pampering the guests and that's why it has survived this long and retained its good reputation.
You as a guest in Estrela Beach Resort in Goa can take advantage of various water sports that are available in Calangute beach that is well-known for adventures in the Arabia Sea.
Estrela Beach Resort at Calangute town in Goa has thoughtfully provided a special play area for kids with supervising staff.
During the night, the resort has arranged several group entertainment activities. I think the partying will last past midnight.
I am sure Estrela resort is one of the finest Goa beach resorts.
Lemon Tree Resort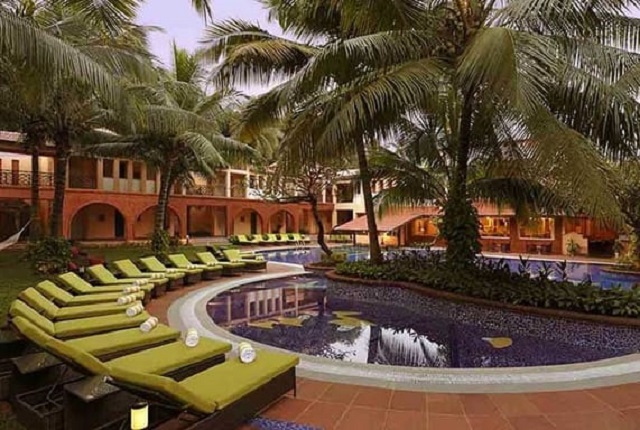 I always liked the ambiance of the lemon tree group of hotels. I used to visit their outlet in Electronic City in Bangalore.
This Goan beach Resort by the Lemon Tree goes by the name Amarante Beach Resort in Goa.
I believe the Lemon Tree hotels have their own loyal customers who don't look for any alternative hotel brands anywhere in India.
Since located near a beach, you can expect the famous water games in the Arabian Sea such as jet skiing, banana boats, wave surfing, water-scooter, and parasailing.
In addition, you can enjoy a cruise in the sea after the sunset. A night cruise in the sea is a rare opportunity.
Another big attractions for the middle-aged people in Lemon Tree Amarante Beach Resort is the Balinese massage offered at extra cost in their Fresco Spa.
Being a 4-star resort, the rates are certainly affordable. I guess it may be less than Rs.10k per night.
In a nutshell, if you are going to stay in Goa for your annual vacation with your family, then, choose one of these seven Goa beach resorts for a memorable vacation.