Do the Thais (people of Thailand) prefer Vegetarian Thai Food, especially at the present corona virus scar?
If so, do they prefer vegetarian meals or only vegan food that is devoid of dairy products?
My third question is the availability of 'gluten' free food in Bangkok's restaurants and street food stalls.
Actually, I am under impression that the Thais are compulsive eaters of non-vegetarian foods.  For example, generally, noodles are eaten with just tomato and chili sauce-right?
Though noodles are a staple in Thailand, it is served with so many meat and seafood in Thailand such as crabs, lobsters, and pork.
That's why I was afraid to visit Thailand as I am a strict vegetarian. However, the scenario is changed to some extent in Thailand.
8 Vegetarian Thai Food for Your Health
I read in a recent Google news feed about 40+ non-meat dishes in Thailand that are gluten-free and vegetarian. I think about 25% of the 40+ dishes are conforming to a vegan standard.
And I have seen the Malays fast cooking skills. With incredible speed, they prepare so many street foods.
Here is a list of 8 vegetarian Thai Food in present Thailand that is also gluten-free.
Baby Corn Fritters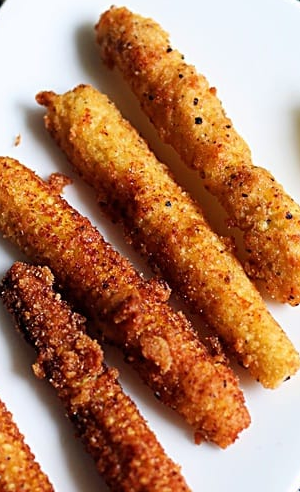 Fritters are a hot favorite of Indians. They dip pieces of vegetables in besan flour paste and deep fry. Somehow, the East Asians have developed a liking to fritters and imported the snack to their streets.
However, instead of vegetables, they use conch, lobsters, and fish!
I just read that baby corn fritters are selling fast in Bangkok's street corners. Usually, fritters dipped in tomato ketchup. However, I have a feeling the Thais prefer a local specialty fish sauce as an accompaniment for baby corn fritters.
Trending Vegetarian Thai Food: Pineapple-fried rice
Ah, this is certainly an innovation that I should credit the Thais for.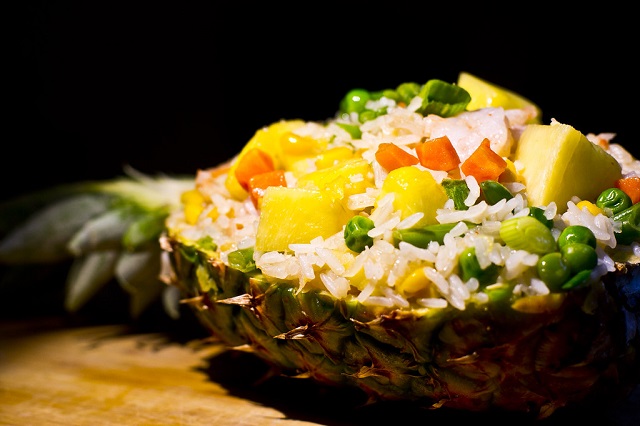 We all know vegetable fried rice or egg fried rice. Oh yes, even chicken fried rice became popular. But, 'pineapple-fried rice'? I suppose this innovation is the outcome of the COVID-19 that asked us to eat more vegetarian food.
And I think I would like pineapple fried rice. I wonder when the Indians in India are going to copy the recipe.
Popular Vegetarian Thai Food: Tofu noodles soup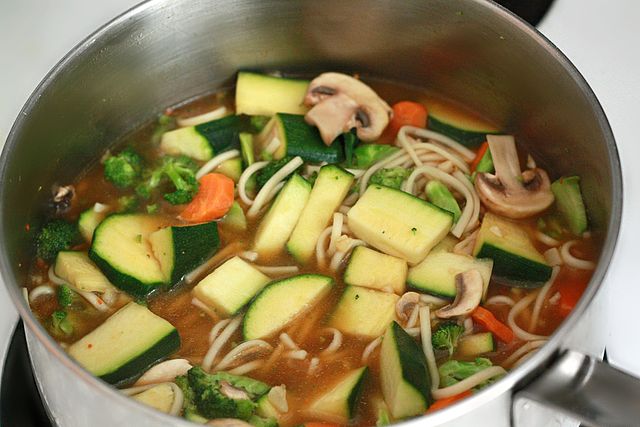 Well, tofu needles are nothing new to the world but look at what the Thai chefs have added to it to fight the flu and cold!
The well-known herb "lemongrass" is added to the simmering tofu noodles soup.  Its aroma sinks in the soup and so does its medicinal properties.
I must admit the Tofu Noodles Soup with Lemongrass cooked by the Thai is super vegan food to fight COVID-19.
Sweet potato curry
Wow! I am damn sure this vegan Thai food is an all-time safe dish in Africa and India. Now, the Thais too are wise enough to make a curry out of a sweet potato.
There is a slight change in the recipe in Thailand. Along with sweet potato, the cooks of Thailand have tested yellow pumpkin and found the combination excellent.
Do you think the addition of coconut milk to the pure vegan, makes a vegetarian Thai Food? I know the Konkans in Goa make a full meal using the yellow pumpkin, sweet potato, and coconut milk.
Thai peanut butter noodle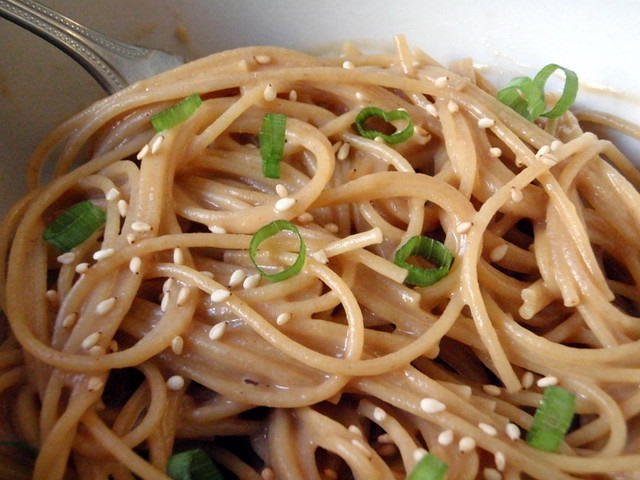 I think this vegetarian Thai Food is also gluten-free. Instead of tofu noodles, Thai use rice noodles in this recipe. A generous blob of peanut butter added with a few chunks of bell pepper to enhance the flavor.
A later year improvement in this vegetarian Thai Food is, instead of peanut butter, boiled peanuts are used.
I think it is a brilliant move because peanuts are slow digesters.
A further innovation is the addition of soya balls.
Som Tam
What do you make of this vegetarian Thai Food? Yes, it is a salad of green papaya! The Thai name is "Som Tom"  and  found in most of the restaurants in Bangkok.
This meat-less food is a good vegetarian Thai Food in which, thinly sliced green chilies are added. The top-up of a bit of a lime juice gives it a fresh, tangy flavor.
Pad pak gachet
Oh, what a name for a vegetarian Thai Food! The 'gachet' is an underwater vegetable! It is also known as 'water mimosa' in Thailand.
In Thailand, they make a stew out of the water mimosa. The stew also has spring onions, coriander, and black pepper.
The pad pack style of cooking also means 'stir-fried'.
I am a bit confused about whether this is a stew or stir-fried vegetarian Thai Food.
Salads of Thailand
The Thais eat several types of vegetarian salad. We have already seen the green papaya salad. Some more salads of Thailand are:
Cucumber salad
Green mango salad
In both these vegetable salads, you will see grated carrot and cabbage. Lime juice is also one of the ingredients along with vinegar, black pepper, and salt.
In the present COVID-19 scary times, I think these vegetarian Thai Food would prove safe to eat. Every other nation should take a leaf out of Thai's vegetarian recipe book and implement it.