Know about five best winter getaways in the world. These cozy and comfortable getaways are all offered by none other than the Airbnb, the most respected home-stay service aggregator in the world.
Winter is here and will stay for another 3 months minimum in most of the world. Winter brings along with the fresh smell of snow, holidays and fun. There is always a search for warmth during the next three months; warmth in your home or in any of the holiday rentals and warmth in meeting and staying together with relatives and friends. Winter means a reunion of families.
In spite of the freezing weather, we plan extensively to travel, not only to warm places but also to hideaways (getaways) even in places like Alaska or Auli.
I am sharing with winter holiday travelers, some of the best-staying options offered Airbnb's hosts. These winter holiday rentals are scattered in several places in the United States as only the Americans are known to enjoy staying outdoor during the snowy months. They also love to cuddle up inside furry blankets or curled up in a comfortable couch facing the raging fireplace with whiskey or rum in their hands.
The winter rentals are located by a frozen lake or on top of a hill or deep inside a jungle.
Airbnb Log House, Fairbanks, Alaska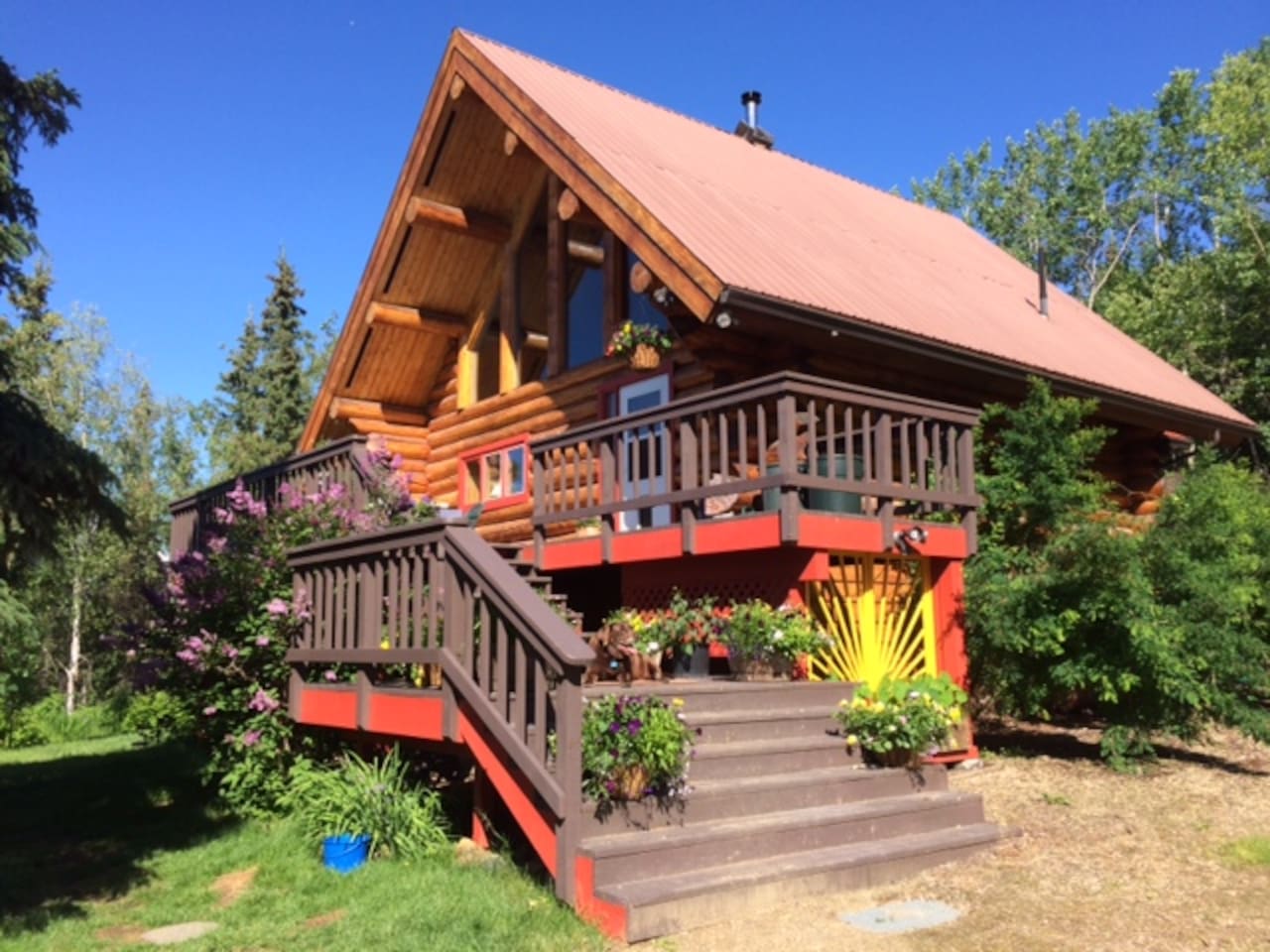 Hosted by Mark, an ecologist from the University of Alaska, this beautiful log house is the most ideal winter getaway because of the excellent location.
Features and Amenities of Fairbanks Log House by Airbnb host:
Quiet yet sunny location
Very close to the Fairbanks town (20 minutes drive) and the University of Alaska
Six people can stay in the log house
Bathrooms with shower
Washing machine
Dryer
Kitchen
A unique feature of this winter cabin is the ability to watch the Northern Lights right from the deck of the log house. Wow! What more can you for as far the location is concerned? The 'Northern Lights' is called as "Aurora Borealis" or "Polar Lights" in this part of the world.
Fun activities available:
The most fun-filled sled dog mushing can be experienced. It would be a lifetime experience to go for a cart ride in the snow, pulled by a bunch of well trained and robustly built dogs. You can take a drive to reach the Arctic Circle, the northernmost of this world. Take a photograph of you there and show it around with the real pride that will surely make your friends green with envy.
Visit the Denali National Park and Chena Natural Hot Springs which is 90 km away from the Fairbanks.
The Denali National Park is a must-see place in the world. After all, you are going up to Fairbanks; why not drive to the 6 million acre Denali National Park that is about 190 km from Fairbanks?
Denali National Park is where the North America's tallest peaked "Mount McKinley is located. The peak is at height of over 20,000 feet!
Another must-visit place while staying in the Airbnb log house is the Fairbanks Icepark in winter.
See a short of video of it below.
The Lake Tahoe Chalet, California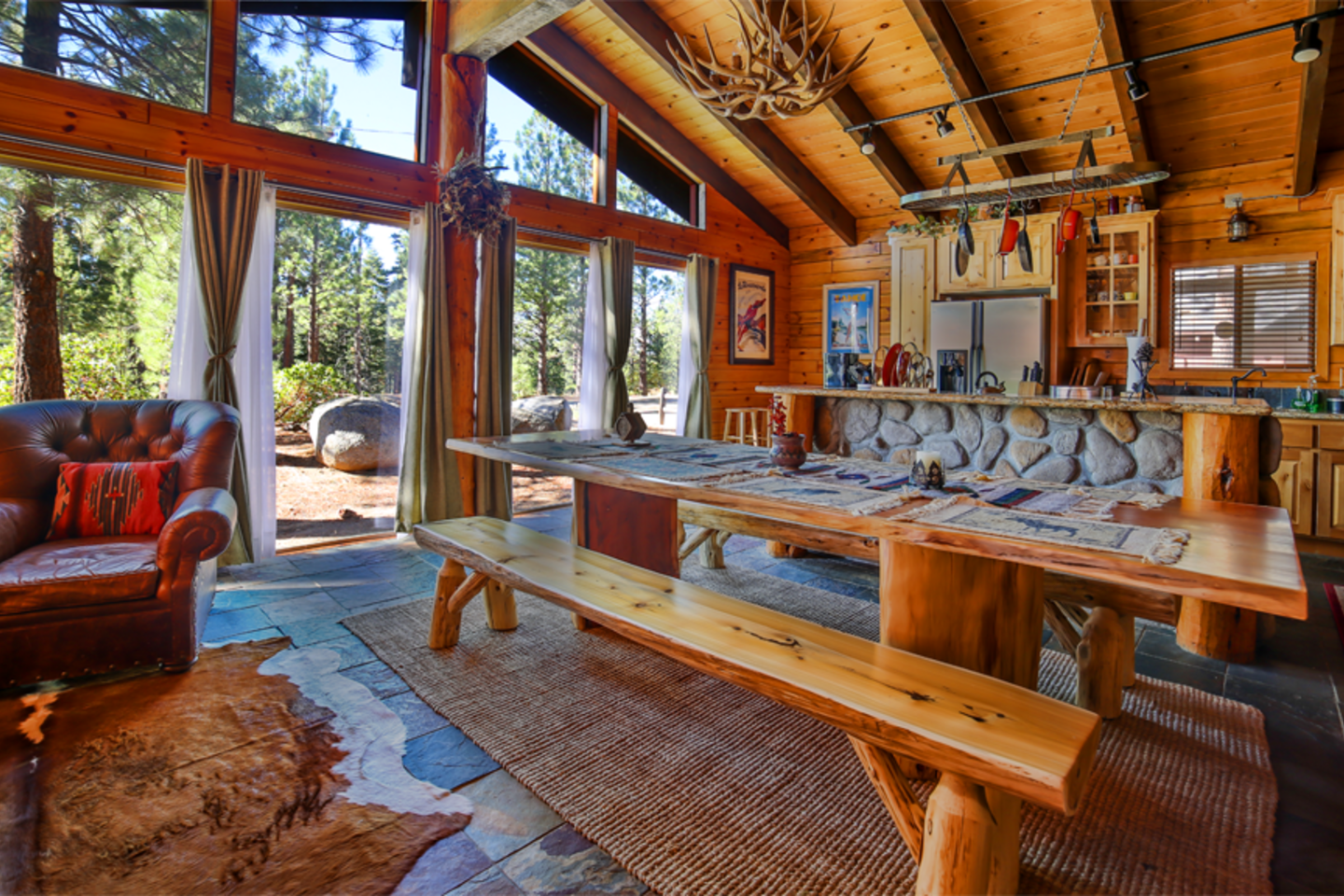 I was amused when I read the description of this 3 bedroom log chalet. This winter getaway from one of the Airbnb's hosts is not only amidst pine trees and mountains but also casinos! I think this would be an added attraction and a thoughtful addition by the hosts Ryan & Darnie who can be contacted at
This South Lake Tahoe is a resort city on Lake Tahoe, in the Sierra Nevada mountains.  Ah, the Nevada mountains; no wonder the Airbnb log chalet is in close proximity to casinos.
Facilities:
3 bedrooms
2 bathrooms
Can accommodate 8 people
Free towels and toiletries
Kitchen with sufficient utensils
Free Wi-Fi
Lost Antler Cabin, Montana
It is located on a ranch in Montana, near to the 3500 Sq.mile Yellowstone National Park. I don't know why the Airbnb host Erin has named it as "Lost Antler Cabin". You can ask her by contacting at
The Yellow National Park actually belongs to Wyoming, Idaho, and Montana because of its vast area. It is said to be a volcanic area. Montana itself is enriched with canyons and rivers; forests and natural geysers; mountains and wildlife.
This beautiful, rustic cabin is only a 30-minute drive from the North entrance of Yellowstone National Park.
Facilities and amenities:
It's a single bedroom cottage but three people can sleep.
Bathroom with shower
Kitchen with stove and oven
Cooking vessels
Free eggs and vegetables
Fridge
Patio
Free Wi-Fi with some limitations
Solheim Cabin, Mountainside Retreat, Vermont
Of all the getaways, I like the ones that are on a mountain. Nothing can bring me more pleasure than to live on a hill, even if it is for a short while.
Therefore, I would certainly enjoy my stay at Solheim Farm owned by Alexandra.
The world's most 'walked-on' trail is the 'Appalachian Trail'. Do you know that more than two million people walk on this trail every year? The trail runs through one of the lush green forests I have ever seen.
The hillside cabin is located in a place that is an ideal getaway place but still close to Dartmouth College and King Arthur Bakery School.
Features and amenities:
4 people can sleep inside comfortably.
Small kitchen
Mini Fridge
Cookware
Induction Stove
A very basic toilet inside the cabin but you need to go out of the cabin for bathing.
Free Wi-Fi
For those who are living in Boston, it is only two and a half hour drive. The famous Woodstock is only 20 minutes from Airbnb host Solheim Cabin.
Full driving instructions are given in the link above.
The view from this cabin's deck is said to be very good as it is overlooking the meeting point of two mountain streams and the woods beyond.