In this blog post, we will get to know about 10 beautiful Australian Islands.
The Aussies are very lucky when it comes to vacation destinations. Whatever category of holiday spots that you are looking for is found in vast Australia.
Beaches
Farmlands
Marine Parks
Theme parks and wonderlands
As far as the Australian Islands are concerned, there are over 8,200 islands and islets in Australia!
OMG! Where else do they need to go for a short holiday on an island?
It was extremely difficult for me to select just ten of the Australian Islands. However, I was able to filter applying various metrics.
10 Most Beautiful Australian Islands that are Worth Visiting
Let us get to know the first of ten beautiful Australian islands.
Most Beautiful Australian Islands: Great Keppel Island

Like the Americans, the Aussies too are crazy about beaches where they spend considerable time with their family.
The Great Keppel Island being part of the world-famous Great Barrier Reef is blessed with 27 km of beach all around. Several beaches wear white sand.
When you finally go to Great Keppel Island, be sure to visit some of the fifteen highly visited beaches that include:
Monkey Beach
Butterfish Bay
Shelving Beach
Apart from swimming in the beaches, you can go on a boat cruise or dive deep into the sea and come up with some colorful reefs.
Water sports in the Great Keppel Island:
Water sports that you can indulge in, in the Great Keppel Island are jet skiing, paddle boarding, wakeboarding, and snorkeling.
Research scientists who are mystified with the number of species of coral reef in the Great Barrier Reef throng the Great Keppel Island almost throughout the year.
While they go about doing their job, their family enjoys a great time on the island where they can eat some f the rarest fish in the world.
Great Keppel Island is located in Queensland, Australia.
Australian Island Fraser
Fraser Island is another Australian Island that is part of Queensland. The nearest big city is Brisbane that is located about 250 km away on the east coast of Australia.
Island Hipping to Most Beautiful Australian Islands from Fraser Island:
Fraser Island has several smaller islands to govern. One of the exciting things in Fraser Island is to go on an island-hopping spree. It would be a voyage of your lifetime.
Gardner Island
Tooth Island
Slain Island
 Dream Island
Reef Island
Stewart Island
Moonboom Island
Roundbrush Island
Meet an aborigine of Australia
Have a memorable encounter with an Australian aborigine called the "Butchulla" people. They have been living in Fraser Island since 5000 years.
Have you walked through a grove of eucalyptus? You can do that on Fraser Island. There is quite a few numbers of forests in Fraser Island that include mangrove forests and Rainforests.
See Lake McKenzie-a freshwater lake
Float down on the Eli Creek-for kids and adults as well
Enjoy an aerial view of Fraser Island by taking a jolly ride in a mini plane
Kangaroo Island, Australia
Well, why not? After all, it is the land of Kangaroos-right?
The Island of Kangaroo located in the south coast of Australia, near Adelaide city.
Kangaroo is famous spotting most of the Australia's wildlife such as:
Kangaroo
Koala
Wallaby
Bandicoot
Possum
Sea Lion
The Kangaroo Island is also famous for spotting numerous bird species that include:
Black cockatoo
Bush stone-curlew
Fairy Tern
Hooded Plover
Biome-restricted rock parrot
Purple-gaped honeyeater
Cape barren geese
Pied Oyster Catchers
Blue-billed duck
Pacific Gull
Banded Stilts
Chestnut Teals
Beautiful birds-eh?
You can watch all these wildlife in several wildlife parks and protected areas that include:
Flinders Chase National Park
Seal Bay Conservation Park
Cape Gantheaume Conservation Park
Cape Bouguer Wilderness Protection Area
Ravine des Casoars Wilderness Protection Area
After reading about several Australian islands, I think Kangaroo Island is the place to see the wildlife of Australia.
Trivia:
In spite of all these wildlife, foxes and rabbits are banned and not found in Kangaaroo Island.
Most Beautiful Australian Islands: Whitsunday Islands archipelago

There, you see most of the islands of the Whitsunday Islands in the map above. All of them, seventy-four in all, are located in the Coral Sea, off the coast of Brisbane, Queensland State, Australia.
However, Brisbane's mainland is quite a distance away at 900 km! Therefore, you can only reach the Whitsunday Islands by plane.
You have to book your flight tickets to Hamilton Island from wherever you stay.
Terrific beaches, numerous water sports, luxury beachfront resorts are the salient attraction factors of Whitsunday Islands.
Holidaymakers in Australia usually combine their trip to the Great Barrier Reef with a short stay in one of the major islands of Whitsunday.
These islands and islets in Queensland receive over 700k visitors every year. That's quite an impressive figure-right?
The water sports in Whitsunday Islands include:
Sailing
Yachting
Speedboat rides
Kayaking
Swimming in the beach coves
Island hopping in your yacht
That's a view of the Coral Sea from the Whitsunday Beach.
What else can you do in Whitsunday Islands?
I read turtle watching is a popular pastime in Whitsunday Island. I thought whale watching is more thrilling than watching a turtle! What do you say, buddy?
Go for an aerial view of the Barrier Reef in a chopper.
Snorkeling is highly recommended as it gives you chance (a rare opportunity really) to see the colorful reefs underwater.
Take long sea walks on the beautiful beaches.
Stay in a camp on the seashore for an unforgettable night of stargazing.
If you are an ardent lover of islands, you can book a grand 74 islands tour by ferry from Hamilton Island.
To lure you for the 74 islands tour, I give here a picture of Hayman Island, one of the seventy-four islands.
Aren't you hooked to Whitsunday Islands, part of the Australian Islands?
King Island, Australia
King Island is a fairly large island that is part of Tasmania.
It is known for golf courses, surfing, horse ride on the beautiful beach, cheese production, great lobsters, and wonderful amusement park,
King Island is more popular for its superb seafood.
Fitzroy Island, Australia
The barrier reefs follow you here also as this island is also a part of Queensland. It seems Queensland is the state to visit in Australia because it has numerous tourist attractions including the world-famous Great Barrier Reef Marine Park.
Fitzroy Island is located a short distance away from the city of Cairns. To reach the Fitzroy Island, you need to book a seat in a ferry from Cairns. It will deposit you in Fitzroy Island in less than 60 minutes.
The main reason for travelers to visit Fitzroy Island is its nudist beach.
Well, you can find all the works of a popular island that includes bars, beachfront cottages, water sports such as snorkeling and kayaking, etc.
Above all the beach activities, there is an abundant cover of rainforest in Fitzroy Island. Explore the forest on foot and you will lose track of time.
Green Island, Australia
This is another Australian island that is located in Queensland. It is a rather crowded island. Tourists love to spend a gala time here, drinking, singing, swimming and just relaxing on one of the chaises on the beach.
Green Island is located just 20 km from Fitzroy Island.
Semi Submarine tour, Green Island, Australia.
Have you ever went under the sea in a submarine? I haven't yet. When you visit Green Island in Queensland, Australia, you can enjoy a short semi-submarine (I wonder what a semi-sub is) tour.
Isn't it exiting, seeing the coral reefs and myriad marine creatures at close quarters?
If you are afraid of going subterranean, you can sit on a glass-bottomed boat and still look at the marine life of the Coral Sea.
Phillip Island, Australia
This Australian Island is famous for the grand parade of the penguins, an enchanting sight of your lifetime.
Phillip Island is located near the Melbourne City, Australia.
Apart from seeing these flightless birds, Phillip Island is a bird watching paradise.
In addition, you can spot several whales that fall into the man-eating category.
Surfing in Phillip Island
Do you know that this small Australian island hosts surfing competition several times a year?
Goose Island, Australia
After Kangaro Island, we now land in Goose Island, an important Australian Island for seabirds spotting.
If you want to watch some rare seabirds in the world such as the black-faced cormorants, you go to this small Australian Island known as 'Goose Island'.
Location of Goose Island, Australia.
Goose Island is located in the extreme southern point of Australia.
Other birds that one can spot in Goose Island:
Little Penguins
Pied Oystercatchers
Pied Cormorants
Crested Terns
It is beautiful!
All these birds have chosen Goose Island as their permanent habitat. In order to protect them and keep them forever on this island to attract tourists, a few preserves are functioning that include:
Eastern Spencer Gulf Marine Park
Goose Island Aquatic Reserve
Goose Island Conservation Park
Lord Howe Island, Beautiful Australian Islands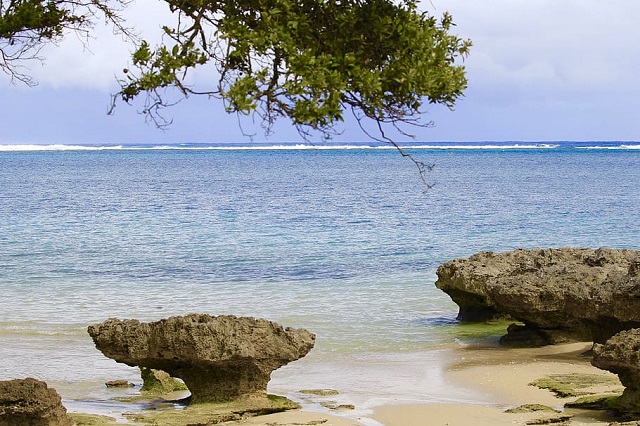 Lord Howe Island is rated high among the Australian Islands by the tourists. They rated this island as a pure paradise of sorts because of unspoiled beaches, walking trails on the beach and on the surrounding mountains, and the overall peaceful bliss that a tourist can experience.
Lord Howe Island is located in the Tasman Sea. That means you have to depart from Sydney in order to reach Lord Howe Island. However, it is not near, buddy; you have to go only by plane.
The distance between Sydney and Lord Howe Island is approximately 800 km!
Lord Howe Island is actually an archipelago comprising 28 islands and islets. However, only Lord Howe Island is important for tourists.
In order to protect the island's virgin beauty and endemic birds, the Australian Government permits a maximum of just 400 tourists at a time.
I reckon it is a wise move. Even UNESCO thinks it so by declaring it as a World Heritage Site.
The Lord Howe Island caters to the needs of water sports enthusiasts also. They can indulge in scuba diving, snorkeling, wave surfing, windsurfing, sailing, and kayaking.
There are numerous rare birds to spot in Lord Howe  and several of them are endemic to this Australian Island.
After looking at these 10 Australian Islands, I think Lord Howe Island is the most pristine island of Australia.