Where to go Water Zorbing around the world? Let us find the best places in this blog post.
I assume you know what Zorbing is! It involves you to get inside a transparent plastic ball, and roll the ball using your hand.
This adventure is done on the ground, preferably on a sloping ground. The surface should be covered with lawn so that the ball doesn't get obstructed on an uneven surface.
The same adventure sport, if played on the water, it will be more thrilling. Watch below an example of "Water Zorbing".
Depending on the size of the ball, one or more persons can enjoy the fun together. .
The alternative names for Zorbing:
Sphereing
Orbing
Globe Riding
Similarly, water Zorbing is also known as 'water walking', though, I don't think it conveys the nature of the sport. However, aqua Zorbing' is a better synonym-right
Of late, in some amusement parks, artificial slope is erected such as ramps made of wood, metal, or even concrete. However, the slope should not be too steep. It should be gentle.
Places where water Zorbing adventure is available:
Generally, you can find it in water theme parks, where even waves are generated artificially. Therefore, constructing a small lagoon measuring about 100 to 200 meters should not be a problem for the theme park developers.
Water Zorbing in New Zealand
I read Zorbing was invented in New Zealand. However, there is nowhere in New Zealand, aqua Zorbing is available.
Aqua Zorbing Australia
There is a resort called Denmark Thrills in Western Australia. I visited the resort's website and blog. But, I could not find any information regarding globe riding on the water.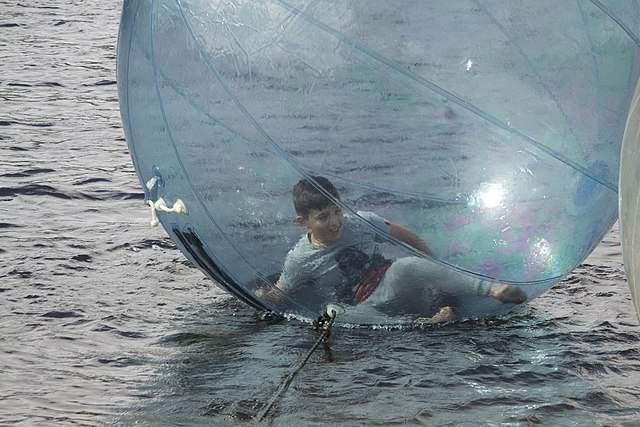 Best Water Zorbing Destinations around the World
Water Zorbing in the United States
Roundtop Mountain Resort, Pennsylvania
The thrill of sphere riding on water is offered in this place, but, strangely, water Zorbing is not very popular in America. As a matter of fact, even land Sphereing is also not available in many places in the United States.
There is an exclusive Globe Riding Park in Pigeon Forge, Tennessee. Here, too, only Zorbing down a hill is offered. It is known as Outdoor Gravity Park.
There is another version of sphereing here, and is called "Wet Zorbing". In this version of globe riding, the giant ball is filled with partial water. You wear proper dress for this, and get inside the globe and roll down on a slope.
Water Zorbing in  UK:
5 places in the entire UK, aqua Zorbing is available that include Manchester, Birmingham, Cornwall, Oxford, and North London.
Unfortunately, I could not find the exact locations for globe riding in the above-mentioned places in the U.K.
Water Zorbing in India
Dandeli, Karnataka, India
Dandeli is a hot tourist spot, especially for adventure seekers. The latest addition is the water Zorbing sport.
This unique water sport lasts only for 10 minutes.
The water body used here is River Kali.
Apart from aqua Zorbing, you can enjoy:
Boating
Kayaking
Ziplining
Birding
You can stay here. Different types of accommodations are available. It is more of an adventure resort.
Though, Dandeli is in Karnataka, Bangalore is 475 km away. Goa is nearer to Dandeli. Panaji is only 140 km west of our water sphereing destination.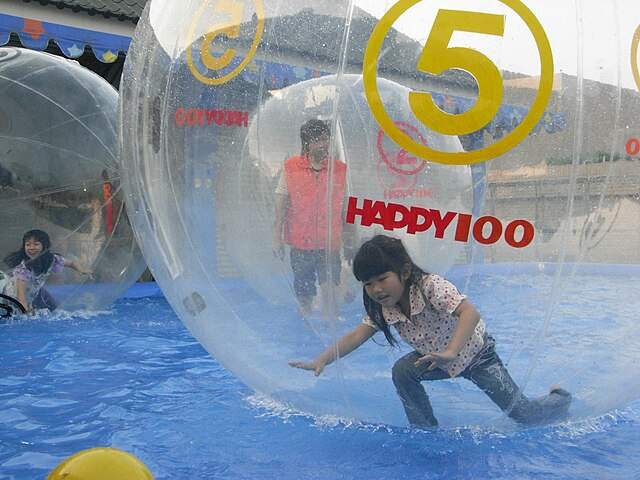 Aqua Zorbing in Lonavala
Lonavala is located 65 km northwest of Pune city. It is a hill station and one of the best vacation spots in Maharashtra.
Delta Adventure Park in Lonavala is said to be the largest adventure park offering numerous adventure sports that offer more than 50 adventure activities. This means, there is an adventure game for every kind of person, and age group.
This is the first time; you and I are coming across about this extreme adventure. The video clip below will tell you all about it.
OMG! It is not for me.
This is nothing but zipling or zipping with a new synonym.  Here, the adventure of sliding across the metal rope involves 1250 feet of zipping.
Circadian cycling
Sky Cycling
Paintball adventure
Zorbing
I just selected a few out of 50+ adventure activities that sounded new.
Here too, water globe riding is allowed only for ten minutes.
Water Zorbing, Kolkata
Having watched a few videos of water globe riding, I think, you need to balance a lot in order to move the ball on the water.
Being in a sphere itself means, you don't stand or sit as you wanted to. Imagine the same when you are inside an inflatable, and the transparent plastic ball that is also filled with a foot of water!
Eco Park in Kolkata is really massive. It is built on 480 acres of land. For water sports alone, an island was developed consisting of 100 acres of water body!
See how a few children enjoy water Zorbing.
It seems, if you want to move faster, you have to roll on your body, but it will miss the fun, I guess.
Water Zorbing in Vizag
Vishakapatnam aka Vizag is a city on the Coromandel Coast in India. There is a small place called Lambasingi, 100 km northwest of Vizag. On the outskirts of Lambasingi town is where the Thanjangi Reservoir is located. It is an upcoming tourist destination near Vizag.
In addition to water sphereing in Thanjangi Reservoir, you can do ziplining, trampoline jumping, and also archery.
I think, more adventure sports or on the anvil here.
Water Zorbing, Dal Lake, Kashmir
Dal Lake in Srinagar, Kashmir is a very popular spot and a happening place. The city's tourism revolves around the Dal Lake in the shapes of staying in boat houses, kayaking, floating markets, and shopping for Kashmiri woollen clothes, silk scarves, carpets, apples, and dry fruits.
Globe Riding is now offered on the Dal Lake. I read, it is a bit hit among the locals also, apart from the tourists that throng the paradise on earth, year long.
So, there are 5 places n India, where you can enjoy water walking or water Zorbing.