How about taking a 70-day long holiday to go Delhi to London by Bus? But for my old age, I would have gleefully grabbed this most fantastic mini-tour of the world in a comfortable bus.
When the Delhi to London by Bus is scheduled to depart New Delhi for London?
The exact date is yet to be revealed but the tentative month is May 2021.
How many countries this longest Delhi to London by Bus journey will cover?
The total number of countries that you will be able to visit if you are on the bus to London from New Delhi is 18!
Which are the 18 countries you will visit/touch during your epic 70-day bus journey to London?
Here are the romantic 18 countries.
I think it is slightly a circuitous tour to London from Delhi as you really don't have to go via Myanmar. Nonetheless, I think the tour operator wanted to include more countries in his bus tour package.
The ultra-luxury bus leaves New Delhi and first goes to Imphal, the capital of Manipur, and then proceeds to Myanmar.
Kyrgyzstan
Uzbekistan
Kazakhstan
Russia
Latvia
Lithuania
Poland
Czech Republic
Belgium
Netherlands
U.K.
Which is the eighteenth country?
Is there a route map for Delhi to London by Bus.
Below is the route map.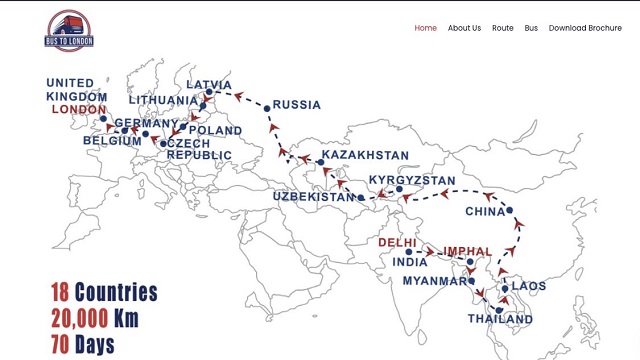 What is the distance covered during this long haul?
Your Delhi-London bus will be covering a whopping 20,000 km!
What is the seating arrangement of the Delhi to London bus?
I could not find any details regarding the seating arrangement on the bus. I remember hearing somewhere that the bus will offer business-class type seats and the number of seats on the bus is just 20!
This means, your seat can be converted into a fully stretchable sleeper. You can lie flat in your seat.
How much is the ticket price for the London by Bus trip?
The ticket price is Rs.15 lakh.
What is inclusive of the ticket price?
Your Rs.15 lakh will include:
Food (Indian type)
Visa cost for all the countries
Hotel accommodation (minimum 4-star)
Can you opt to get down in any country in-between?
Yes, of course! You can do that. Let us say, you want to end your journey at Latvia and explore Eastern Europe on your own, you can do so. The ticket price will be proportionately less.
Fair deal-eh?
Will an experienced guide accompany the passengers?
Yes, definitely! There will be a knowledgeable guide and he will come along with you. The crew of the bus includes:
Two drivers
Guide
Bus attendant
Will be there a restroom inside the bus?
Yes, of course. Other onboard facilities include:
Wi-Fi
USB ports for operating your laptop and to charge your mobile phone and entertainment gadgets
Partition between seats ensuring privacy (maybe curtains similar to the ones you find in Indian trains)
A mini pantry where you can buy snacks and soft drinks.
Luggage in the epic bus trip

Oh, I almost forgot to find an answer to your question. Here is it is. You can bring two big suitcases (capacity or size not mentioned).
Who operates this dream Delhi to London by Bus trip to the U.K. from India?
Adventures Overland is the company that will be organizing the trip.
Is the ticket booking started?
Oh, no; not yet. The dastardly COVID is the culprit as of now.
When the situation becomes normal, the booking might start.
For a detailed brochure for this epic Delhi to London by Bus trip, please visit their official website.