Sikkim is certainly an under-visited state of India. This East Himalayan state is extremely beautiful. There are breathtaking peaks of Himalayas, green valleys, gorges, large tracts of grasslands, unseen Himalayan birds, Buddhist monasteries that are located in almost inaccessible cliffs, wildlife sanctuary, waterfalls, and lakes. Ravangla in Sikkim is a relatively new tourist spot in South Sikkim.
In this blog post, I am covering the top tourist attractions of a hill station called Ravangla, in the southern part of Sikkim.
If you are looking for a cool and quiet weekend seclude in the Himalayas, Ravangla should be your ultimate destination.
Overview of Ravangla
Ravongla hill station is situated at an alpine altitude of 8000 feet. The Sikkim's capital Gangtok is only 70 km away thus making it easy to visit by flight and car.
You can fly up to Gangtok and then hire a cab to reach Ravangla.
Siliguri town in West Bengal is also a gateway to Ravongla tourist attractions.
Best time to visit Ravangla, Sikkim
The summer season is highly recommended to plan a trip to Ravangal. The weather would be pleasant in the summer. The wildflowers and the beautiful Himalayan birds attract each other and us also during summer that begins in the last week of March and lasts until June end.
Let us see the list of tourist attractions in Ravangla 2020 and various things to do.
View the Himalayan peaks
At certain viewpoints in Ravangla, taken to by your local guide or even the cab driver, you can see:
Kanchenjunga peak is situated at an incredible 28,000 feet!
Great Mount Kabru's summit is located at an altitude of 23,000 feet!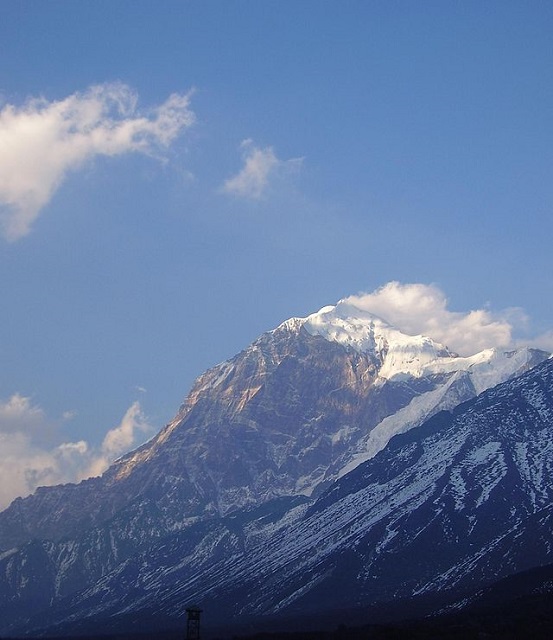 The Mount Pandim's height is 22,000 feet!
Wow! What a sight! The peaks of Himalayas never fail to impress us. Siniolchu peak stands at a height of 22,600 feet!
These Himalayan peaks are generally visible only during summertime. When the clouds gather, you may have to wait for an uncertain duration for them to clear and reveal the silver peaks.
Note:
Try to get up early in your Ravongla hotel room and reach the observation platforms just before sunrise. When the sun's first rays illuminate these stunning Himalayan peaks, they first appear simmering golden. That enriching view will stay etched in your memory for a long time.
Buddha Park
I am sure you need not ask anyone how to reach this towering Buddha statue set amidst a landscaped garden in Ravangla.
It is visible from everywhere in Ravongla. The location of the Buddha statue is abutting a jaw-dropping gorge.
This Buddha Park is a sacred site for Buddhists. They arrive in large numbers from Tibet, Nepal, Bhutan, and Sri Lanka to offer prayers. I read most of the Buddhism followers from these neighboring countries visit Ravangal every year, mainly to worship this Buddha statue.
Cho Djo Lake
Cho Djo Lake is part of the Buddha Park in Ravangla. The picturesque setting of the lake is alluring. Just stand by the lake for a few minutes to let the spiritual vibration sink in.
If you are inclined to meditate in the sacred presence of Buddhist monks, you can do so in an exclusive meditation hall.
Tour the villages near Ravangla
The simple life led by the rural peasants of Sikkim will make you question yourself about the ways you lead your life loaded with luxuries.
Meet the ever-smiling and friendly Sikkimese in their own den. Drink a cup of home-brewed tea, one of the tastiest teas in the world.
Ask your cab driver in Ravangal to take you to Kewzing Village and meet the locals. Another notable village near Ravangal is Tinkitam. It is located 6 km away from Ravangla.
Yak Ride
You can find the locals offering a ride on Yak. Don't feel shy; hop on to the animals and enjoy a memorable experience. The yaks are usually well dressed up.
Maenam Wildlife Sanctuary
Maenam Wildlife Sanctuary is an attractive trekking and hiking paradise in Ravangla. The trees are perched at as high as 10,000 feet.
You need to walk through a really very dense forest. The canopy is cool and the noise of a silent forest will make you calm.
As you trek through the mountains, you can spot the rare red panda, yak, and quite a few monkey species. In addition, if you can identify civets, they live in large numbers in the forests of Ravangal.
You might not recognize the ungulates because you are likely to identify it as a goat, but it is not.
Here is an image of a Goral that is also known as Ungulate.
It looks like a crossbreed of goat and antelope because of its horns like that of an antelope.
The star attraction in Ravangla and especially in Maenama Wildlife Sanctuary is the beautiful and stocky 'Blood Pheasant'.
Blood Pheasant
As per Wikipedia, Blood Pheasant is the state bird of Sikkim.
More rare east Himalayan birds that you can spot in
Maenam wildlife reserve is:
Hill Partridge
Blue-necked Pita
Crimson Sunbird
I can't take my eyes of this stunning looking sunbird.
Tea gardens in Ravangla
Sikkim tea is a world popular for its heady aroma. Visiting a tea estate in Ravangal is highly recommended.
Not only you can taste a cup of freshly brewed tea but you can also buy some for your home.
Temi Tea Garden is included in the list of Ravangal attractions. You can find pictures of this picturesque tea behind the reception desk of the hotels you stay in Ravangla.
Temi Tea Garden
At an incredible location inside the Temi tea estate is the Cherry Resort. The location of the resort and the view from it is something out of the world.
Look at the picture of Cherry Resort.
Buddhist Monasteries in Ravangla
There is no dearth of Buddhist monasteries in Sikkim. Ravangal too has its share of a monastery. Its name is 'Ralang Monastery'.
This lovely Buddhist monastery is located less than 8 km from this town.
Other Buddhist monasteries that you can visit in AND around Ravangla are:
Bon Monastery
Yangyang Monastery
Tashiding Monastery
Hot Springs near Ravangla
For some tourists to Ravangla, the natural geysers are the top attractions. I too marvel at hot springs-natures gift in the snow-clad Himalayas.
Seeing the steam and hot air bubbles out of nowhere from the earth is amazing. Invariably, these natural sulphur springs' water has immense medicinal properties.
Three natural hot springs that you can visit near Ravangal are:
Boron hot spring
Reshi hot spring
Ralong hot springs
The source of the hot springs is the Rangit River. I read you need to undertake a strenuous trek downhill to reach these hot springs.
I think people won't notice the strain because of the trekking path winds through picturesque forests, wildflowers, and breathtaking views of the surrounding valleys.
The Sikkimese call the hot springs "Cha-chu".
Rangit WaterWorld
Don't imagine a big water theme park with rides and slides. There is a dam built on the Rangit River. The resulting water body is a lake.
Adventure seekers can indulge in white water rafting in the Rangit River. In the Himalayan rivers that flow down to reach the plains are ideal for rafting sessions. They offer a number of rapids and sharp drops.
Rangit water world is located about 25 km from Ravangal town and one of the top attractions in Ravangal.
What can you buy in Ravangla?
Carpets! These carpets woven in Sikkim are truly world-class.
Wooden handicrafts of Sikkim will captivate you.
Where to Stay in Ravangla
If you can get a Homestay in the nearby villages of Ravangla, you cannot ask for better hospitality. Though the beddings are basic, the location of the huts will charm you.
Moreover, simple but pure food is absolutely delicious.
In addition, Here are some hotels and resorts in this hill station that you can select for your trip to Ravangal. However, I am afraid they may not be opened at present.
Call them at 081458 41614 and find out whether they are open for tourists.
Rain Drop hotel is a budget hotel.  The hotel's phone number is 98301 39135
Hotel Cloud's End is located at an enviable location.
What can you eat in Ravangla?
Well, if you choose to eat vegetarian food in Ravangal, Sikkim, you have a wide variety to choose from such as:
Dumpling (momo in local language)
Gundruk
Thukpa
Tandoori roti is a staple in Sikkim. It is prepared in the Punjabi dhaba style. In addition, Roti is served with a generous bowl of lentils and vegetable salad.
So, how do you like Ravangal? Do you feel like adding Ravangla to your travel bucket list?