Get to know about various beers of different countries. Listed here are 15 Top Beers in the World. In spite of hundreds and thousands of liquor brands in the world,  the number of beer brands clearly outnumber hard liquors.I know beer lovers will support my declaration but there might be skeptics. In order to suppress their dissent, here is a trivia that they should read twice:
The United States alone brew over 5000 brands of beer.
Even India produces 31 beers!
Generally, those who drink hard liquor don't shift their loyalty; they stick to the same whiskey or brandy that they are used to.
15 Top Beers in the World That You Could Try
However, beer buffs love to taste a new beer wherever they travel.
Therefore, to satisfy the curiosity of beer drinkers, I have listed here 15 top beers in the world.
Top Beers in the World: Guinness Beer
This unique beer in the black color is the most sought after beers in the world. Originally hailing from Ireland, the Guinness beer is manufactured in as many as 50 countries!
Guinness beer is thicker than other beers with a taste of milkiness.
I read the Irishmen are one of the largest consumers of beer in the world.
Guinness black beer is available in Singapore, a country that is too far away from Ireland. It is no wonder Guinness beer is one of the top beers in the world.
Tuborg Beer
I came to know this foreign beer sold in India has displaced "Kingfisher" beer from the top of the podium.
Indians generally like strong beers.  You can even buy 'double strong' beers in India.
This mild beer is sold both in bottles and in cans.
It is said to possess a mild flowery flavor. Hmm.. I wonder how a beer will smell with a tinge of flowery fragrance.
No, for me if that's the case.
Top Beers in the World: Peroni Beer
Surprisingly, this beer is an Italian product. I thought the Italian are strong loyalists of wine. Well, the times are changing and so are the Italians.
If you are a staunch beer drinker and if you are touring Italy, then, don't forget to a drink a pint of Peroni beer, one of the top beers in the world.
It is more of an ale, buddy!
Top Beers in the World: Lion Strong Beer
Similar to the Indians, the Lankans too prefer strong beers. The Lion Strong beer contains 8.8% alcohol! Oh, I think it is too much alcohol for a beer-eh?
As a matter of fact, there is another category of Lion Beer in SriLanka. It is the 'Extra Strong' beer variety.
Flamingo Dreams Nitro beer
Oh, it certainly doesn't look like a beer but still, it is a beer in the ale category.
Moreover, I think it is odd to name a beer after the exotic 'flamingo' bird. Maybe it is named thus because of the pink color beer.
If you like beers with a fruity flavor, then, you will immensely like this beer because it has not one but two fruits that are raspberries and blackcurrants!
In addition, if you are a sucker for colorful drinks like me, you will love to exhibit the glass in your hand with this pink colored beer.
Flamingo Dreams is one of the top beers in the world that beer drinkers would not hesitate to try.
The Flamingo Dreams Nitro beer/ale, native of Colorado state  and widely sold all over the United States.
Top Beers in the World: Duvel Beer
Man, this is a Belgium beer! Throughout the world, Belgium beer commands high respect. Beer culture in Belgium is so highly recognized that even the UNESCO awarded it the "Intangible Cultural Heritage of Humanity"  status. (courtesy: Wikipedia)
There are several beer brands in Belgium that are well-known. When you visit Europe this summer, don't forget to drink Duvel beer, really a top beer in the world.
Never Say Never Beer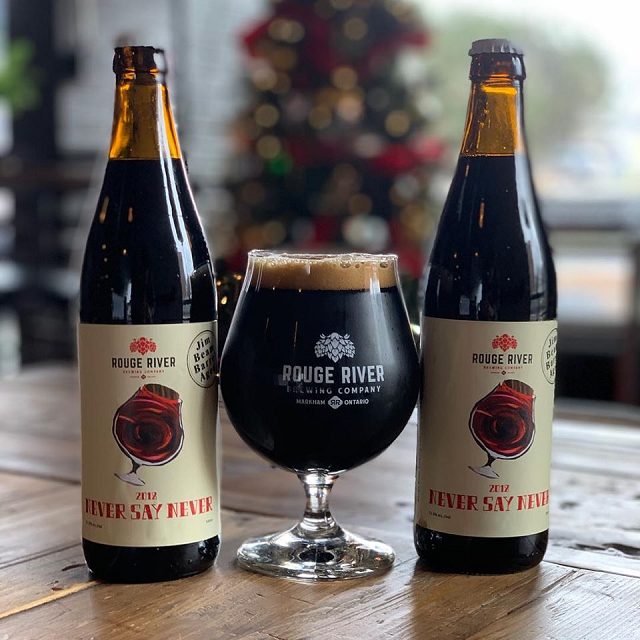 And Never Say Never, the name of the top beer gulped down in Washington DC, U.S.
The nation's capital witnesses large beer consumption along with Scotch whiskey.
I think the name 'Never Say Never' is too long a name for a beer. It mostly sold in cans.
Murphy's Beer
Obviously, it is a 'stout' beer and it is the second beer from Ireland that finds its way into the list of top beers in the world.
Dark beers are unique. I liked the Guinness beer when I first tasted it in Singapore a few years before.
Stout beers (dark beers) have scope for adding fruit flavor without discoloring the beer.
Tecate Beer
The Tecate beer, the topmost beer drunk in Mexico. Of course, Tecate beer is also one of the top beers in the world and in the United States also.
Strangely, I would even say bizarrely, the bars in Mexico serve a slice of lemon along with a glass/bottle of beer. The local Mexicans have the habit of adding lemon juice into beer.
Corona Beer
Probably, it is the wrong time to write about one of the top beers in the world with 'Corona' as its name.
Nevertheless, 'Corona beer' is a highly popular beer in Mexico. It has an attractive golden color that the Americans call it 'pale'.
Red Stripe Beer
This world-famous beer is a Caribbean beer but sold all over the United States. I believe it has found its way into the stores of Canada and South America also.
Did you notice the shape of the beer bottle? It looks like a cough syrup bottle-eh?
The Caribbeans are big consumers of beer. Their climate warrants chilled beer.
If you cruise to the Caribbean islands such as Jamaica or Bahamas, you would see Red Stripe beer ubiquitously.
The Red Stripe beer is not a stout beer. It is a lager beer in the usual amber color.
Red Stripe always included in the list of top beers in the world.
Carib Beer
This is another beer sold in the West Indian islands that include Trinidad and Tobago. Carib beer is loved by the Trinidadians.
Carib beer is again a lager beer with pale yellow color.
As many as 15 different beers are sold in the Caribbean islands of Barbados, Cuba (Bucanero beer), Martinique, Bahamas (Kalik beer), Cayman Islands(Caybrew beer), and Dominica (Kubuli beer).
In addition, If you are an avid beer drinker and can't wait to taste several beers, the Caribbean islands must be your destination.
Most of the Caribbean beers can be rated as top beers in the world. In fact, beer is the identity of the Caribbean islands.
Efes Pilsen Beer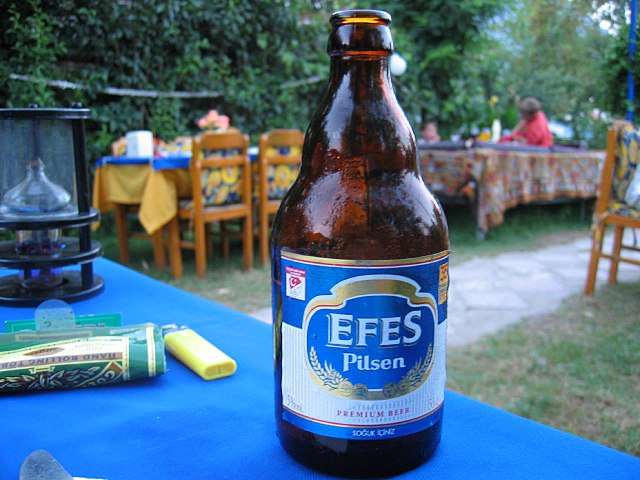 The Efes Pilsen beer brewed and sold in Turkey. Moreover, I think the Efes Pilsen beer rules the beer shelves all over Turkey.
Of late, the Efes Pilsen has started manufacturing beer with different flavors and fragrances such as chocolate, caramel, and coffee!
Oh, I would love to try the 'coffee beer'.
Pilsner Beer
Wherever you travel in France, if you surprisingly say 'no' to the famous French wines and bent on sticking to drinking beer, you will be served 'Pilsner' beer in the bars and restaurants.
Moritz Beer
Spain is a hot country and as such, chilled beer is widely drunk throughout Spain mainland and its islands.
Moritz beer found everywhere in Spanish cities. In addition, Moritz beer is a native of Barcelona.
It is a lager beer in amber color.
Well, I can't claim I have listed all the top beers in the world but these beers are easy to find in their respective countries.
If you have some beer in mind that I should include, please mention it in the 'comment' section below.